Class B AIS, finally the FCC Order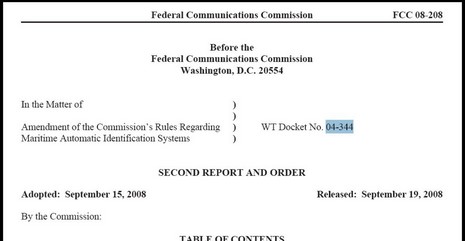 My Class B AIS sources were right! Though it's not yet in the FCC Daily Digest (Monday, probably), the new AIS Order was released yesterday and is posted as a PDF. And it looks good. If you recall, the FCC could have just granted waivers for the Class B devices already approved by the Coast Guard, but instead the Commissioners have fully approved Class B and dealt with side issues like frequency allocation. The major bit of news I see in the Order is that users will not be permitted to input their own MMSI numbers. However, the new Rule is nicely flexible about who can:
The entry of static data into a Class B AIS device shall be performed by the vendor of the device or by an appropriately qualified person in the business of installing marine communications equipment on board vessels. In no event shall the entry of static data into a Class B AIS device be performed by the user of the device or the licensee of a ship station using the device.
Plus—in addition to meeting the international (IEC) Class B standard, as expected—the FCC Rule requires a label on the device stating how wrong it is to use improper static data. But it seems like it's OK to use an MMSI gotten free from BoatUS, SeaTow, or whoever, if you don't get one with an FCC ship license. Of course I may have missed something in all those PDF pages! One thing I'm definitely unsure of is the timing. I think this order goes into effect in 30 days, and there's some language about granting the requested ACR, Navico, SevenStar, and Software Radio Technology waivers immediately. Thus many of the Class B units I've discussed here may be for sale in the U.S.A. as soon as they can print up the warning labels. In the word of my primary behind-the-scenes source (who deserves a huge thanks for keeping us informed): Finally!