Class B AIS on sale, but not to Yanks!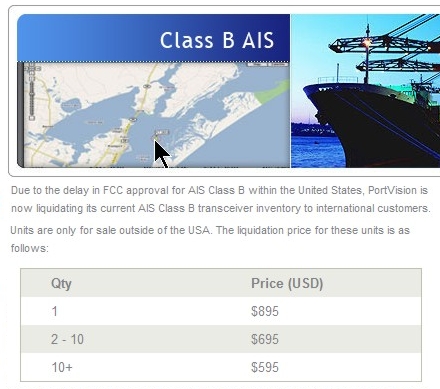 I guess this sort of thing was inevitable, thanks to FCC recalcitrance, but still it's a sad sale for all but a few. Apparently PortVision, an interesting U.S.-based commercial marine information service, has concluded that the FCC is not about to allow Class B AIS anytime soon, and is liquidating its inventory of SRT transponders (update: sorry, all gone). You may recall that SRT Marine Technology—which once did business as Software Radio—developed the core technology that's in every Class B transponder currently approved by the U.S. Coast Guard and other certification authorities.

SRT also builds a complete Class B transponder, and that's what PortVision is selling. I think it's exactly like the True Heading Class B I did a preliminary test on last summer, the one with a casing you could probably drive a truck over. So this is good news for boaters outside the U.S.; if two or more can get together on an order, it appears they can each get a good transponder for $695 plus shipping. I'm hoping that some of the bluewater cruisers contemplating the completely un-authorized SR261 transponders will go for this deal instead; it would be a more responsible move, and the SRT Class B is a hell of a lot easier to install and use.
But meanwhile, I know other companies sitting on warehouse stacks of Class B transponders, and U.S. boaters anxious to buy them. I have a friend here in Camden who's sailing to Finland this summer, and struggling to figure out how he can get and install a Simrad AI50 that would be legal and prudent for him to use during 99.9% of the voyage! And how about the plight of SRT itself? A couple of months ago I spoke with a principal there who said that the company projected about 50% of its sales in the U.S. and never anticipated this problem with the FCC. Why would it, with the technology working fine elsewhere and the U.S.C.G. asking the FCC to expedite approval? It's shameful way to treat a company that's done good work already, and is purportedly intent on developing even better and more affordable Class B devices.
On a cheerier note, I've been trying out PortVision's free evaluation, and it's a real eye opener in terms of what can be done with AIS shore receivers and smart database programming. It's not only a first class version of the many Web AIS plotting sites we've seen, but it keeps histories by vessel, terminal, and waypoint. Thus, when I clicked on Elka Delos below I not only got all her current AIS info but also references to when she sailed from Houston, etc. Click on the Verrazano Bridge and see all the vessels that recently passed beneath it. And there are many more features for managing fleets and so forth. PortVision was going bundle 90 day subscriptions with the SRT transponders—which would have been a enticing package for say charter companies, even nervous families—but the FCC kiboshed that business plan. Sigh.