Coastal Explorer 1.1, the current thing (and a Maine story)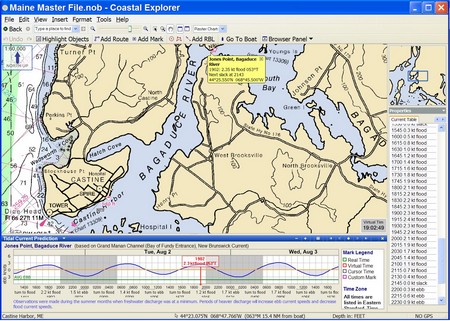 Rosepoint Navigation's Coastal Explorer is now in "open Beta", meaning it's essentially done and available for download by all registered 1.0 users. The retail version should be coming along soon. The "1.1" tag is dry humor; there are so many major additions to the program that they could justify a jump to 5.0 or beyond if they felt like it. At any rate, above (bigger here) is an example of the new tides and current prediction functions. They are extremely well done; you can easily animate multiple onscreen tide and current stations and/or get graphic, tabular, or text info for any one station. Bravo!
I chose the particular area above so I could tell you something about coastal Maine, and the characters who live here. That light blue area (you really need to look at the full screen) is the Bagaduce River, which isn't a river at all, but rather a long, complicated tidal bay (that extends well beyond the chart window). 10 feet of tide is trying to fill or drain that whole area every 6+ hours, hence the 2.3 kn current at the Jones Point station I've selected. The coast is so complex, and the prediction stations so spread out, that Maine boaters become amateur hydrographers, able to guesstimate current strength by looking at the chart and a tide table.
Mainers can also be crusty. The story goes that there was quite a contentious town meeting when that little bridge (lower right) was built. One gentlemen got up and said, "Why the hell should it cost so much; I could piss half away across there." To which the moderator replied, "Sir, you're out of order." And got back: "You're damn right I'm out of order; if I wasn't I could piss all the way across!"