Conepatus, tricked-out Rosborough cruising RHIB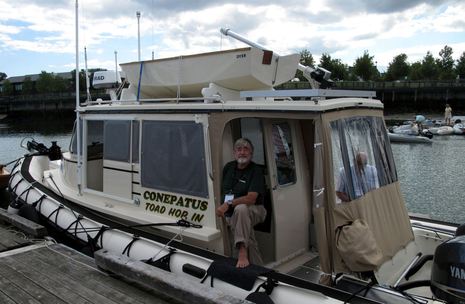 That's Craig Owings and he's justifiably proud of what may be the world's first trailerable cruising RHIB. But if you check out builder Rosborough Boats, you'll see that it is not actually a custom boat, but rather a clever combination of its production 25′ sedan cruiser and the 29-foot deep vee inflatable it builds for marine professionals. I got a tantalizing glimpse of Conepatus early last week as it zipped around Mt. Desert island and was pleased to find her being used as the Rosborough exhibit at the Maine Boats, Homes & Harbors Show this weekend…
I once had a strong personal interest in fast pocket cruisers (like Ralph), but Craig Owings has very particular needs as he lives in the mountains of Panama and plans to trailer this boat to both Pacific and Caribbean waters. He also has a cruising sailor's sense of adventure and it seems likely that Conepatus will have many miles on her bottom before she gets shipped to Central America. You'll get some sense of this boat's serious intentions by clicking on the picture of her electronics array.
Yes, that is an Icom M802 SSB radio and Pactor modem up there to the left (and Craig, in fact, manages the SailMail access point in Panama). And that's also a full-on Simrad NSE 12 installation, networked with Navico AIS, SonicHub, Broadband Radar and Sonar, and even the Yamaha outboards. Craig says he gets more and easier-to-read engine info on the NSE, but notes that he switched from using a direct SimNet/N2K connection to using Yamaha's data output because the first set up meant that all his engine gauges were activated any time the NSE was on. That's a problem as he's been keeping the NSE on to run his SonicHub and iPod dock. I pointed out that a Fusion WR600 Remote will run the Hub independently (as I've been doing this season on Gizmo) but he'd be happy if Simrad just made it possible to control the volumn when the NSE is in StandBy mode, which seems like a reasonable request (if it's possible electronically).
Craig is also disappointed with the Simrad WR 20 Remote Commander which you can see mounted alongside its receiver on overhead just right of the NSE. Apparently it won't command much more than his autopilot, though it is talking with his extensive SimNet network. Can anyone help him get more from this device, or has it just not kept up with Simrad's newer systems (which Craig missed in the literature)?…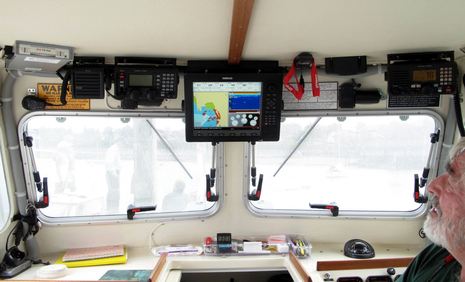 Craig also showed me how transmitting on his Icom VHF caused the Airmar PB200 mounted very near the VHF antenna (see top photo) to stop delivering GPS position, wind data, etc. I'd heard of VHF interference from a too-close PB200 but not the other way around. Needless to say, an antenna rearrangement is on the the to-do list.
And all these new boat issues do not mean that Craig isn't pleased overall with the systems he chose and the distinctive boat he helped to dream up. This RHIB can apparently go fast in conditions other pocket cruisers can't, and sneak into shallower waters. You can find out more on the Conepatus blog, including the derivation of its unique name and hail port, and I'm hoping Craig will come by Panbo for more discussion of his gear (he's a WiFi expert too).
Conepatus was not the most unusual boat that the MBHH show, however. That distinction had to to go the Poseidon Tactical Marine air boat seen below. With 720 horsepower turning carbon fiber blades and an almost completely flat bottom surfaced with friction free plastic, it can suppossedly fly over water, ice, mud, or even launching ramps. Unfortunately, though, the company representatives made a serious tactical error by doing a series of dangerous high speed demo runs in the channel and mooring field just off the show on Sunday morning and were purportedly last seen being escorted off the docks by the Coast Guard!