Deckband 4i, interesting Bluetooth concept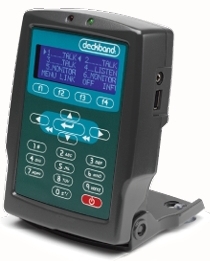 So how about a product whose details are mysterious and which may not exist, and even if it does, probably doesn't work very well? The thing is that I've gotten a little Bluetooth happy, and the Deckband 4i concept looks like a particulary interesting way to use it on a boat. From what I can gather at the unfinished site above, this hub not only permits four crew to communicate via Bluetooth cell phone type headsets, but can also somehow mix in VHF, and (I think) serves as a proactive man overboard alarm system.
I got the latter from its FAQ page which also seems to suggest that the hub has a two-way NMEA 0183 port. Call me crazy, but I find the concept plausible. Not, however, with the Class 2 Bluetooth that Deckband 4i is using. 2.5 mW Class 2 only claims a range of 10 meters, and even Deckband admits that wood, fiberglass, and (especially) metal can impede the signal. My tests of the Bluetooth Class 1 Callpod Dragon V2s—which pump out 10 times more signal, according to the standards—are still inconclusive, but I'm pretty darn sure Class 2 won't cover much boat. While the Deckband people may get back to me with enlightening detail, I'm mostly wondering if and how this product could be done right. Your thoughts?
PS I even see some pluses in the unusual Iqua Smart Badge that Deckband bundles with its hub. As susceptible to snark as it may be, it won't flip overboard easily, can hold a extra big battery, and puts more controls where they can be managee better. Might be handy for boat shows too.