Dedicated Depth display, NMEA 2000 the best way?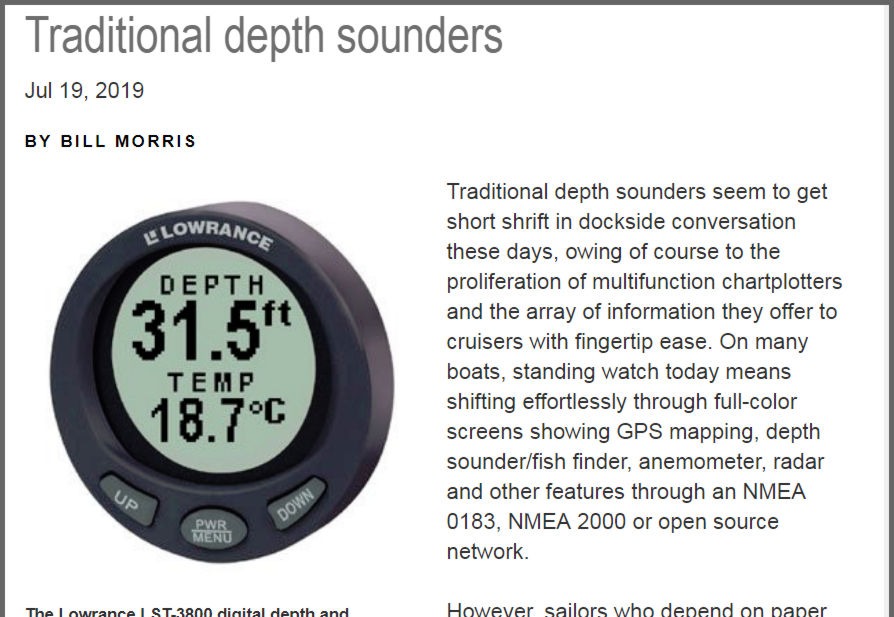 I enjoyed this Bill Morris article at OceanNavigator.com even though he pokes fun at skippers like me. For one thing, he does it gently and well, as in this smoothly written second paragraph:
However, sailors who depend on paper charts and minimal electronics — VHF radio, hand-held GPS and a stand-alone depth sounder — are still making successful ocean passages, blissfully innocent of the compulsion, or ability, to spend big bucks on more elaborate systems.
I also agree with Bill that a dedicated depth display is a key navigation tool, regardless of what else you're using. But then again I think that there are better ways to do it than he advocates, and though they involve bigger bucks in the short term, that may not be true over time.
The standalone Lowrance LST-3800 Depth gauge that Morris favors reminded me of the vaguely similar Lowrance LMF-400 I tested 11 years ago. Of course, the LMF is an NMEA 2000 all-in-one instrument display capable of showing many types of information, but you can certainly use it as a dedicated depth display (in fact, most let you turn off all other pages if you actually can't control your fingers).
Moreover, I still have that inexpensive LMF-400 and when I plugged it into Gizmo's N2K network it powered up and had no trouble showing the Depth data available (and possibly shown by most any other display on the network). By contrast, the standalone LST-3800 system requires both display and transducer to be functional. And while the LST is only $162 on Amazon, that included transom-mount transducer is not apt to work well with the inboard engines found on most ocean-going boats, and I'd be skeptical about an optional Pod Style transducer in-hull install too.
It's also worth noting that even the LMF's inefficiently designed numeric Depth display is probably easier to read than what's on the significantly smaller LST display. And how about that Furuno FI70 for crisp and bright readability! Its high-quality 4.1-inch color screen is fairly typical of current NMEA 2000 instruments and I just bought it on eBay for $300.
I would hesitate to buy a used NMEA 2000 depth transducer like, say, a rugged yet reasonable Airmar DT800 — or any used transducer, for that matter — but I've only seen one N2K display fail after many years of abusing them, often six or more of various brands at once.
Sure, setting up a NMEA 2000 network can seem complicated and expensive but most of the gear is built well for blue water boating (and note the value-oriented sensor/display kits available from Garmin, B&G, and others). And I simply do not buy the notion that a standalone depth sounder is more reliable.
I've never seen an N2K network fail completely, and I've built some that stretched the rules. And there's more redundancy than the fact that most any screen can show basic data like Depth. You can also have an extra depth transducer on the network, and in most cases, the displays will pick one automatically or let you set up a preferred source. In fact, some displays like Maretron's will let you see two different Depth readings on the same screen and even name them sensibly, like Port Depth and Starboard Depth based on a big catamaran's dual transducers.
You might feel a little "compulsion" to try alternate Depth displays like the ones above, which I created and photographed on Gizmo while she was tied up yesterday. But once you've crafted what works for you, there's no need to fool around when you should pay attention elsewhere. In my view "keeping it simple" is not about what marine electronics can do, but is about how you use them.
How would you advise a friend looking for a simple Depth data display?
PS 8/1: Allan Seymour sent in this photo of a HawkEye DepthTrax mounted at the helm of Sally W, which also has Depth on its N2K network (as seen on Panbo). He wrote, "When at anchor I keep this little guy on. Draws little power. It's also a very simple backup."