Fuel management 6, Lowrance LMF-400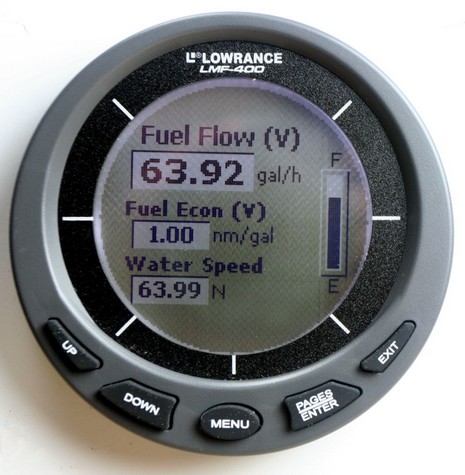 Lowrance's LMF-400 is one impressive NMEA 2000 gauge, and I should have included it in my N2K instrument round up. On the above "fuel management" screen it's totaling the flows of the two FloScan FloNets and calculating nm/gal using boat speed, while also showing the tank level % from a Maretron adaptor. You can easily change the data fields or build a custom screen showing from one to four data types—either virtual needle style or numeric—and thus monitor individual engine flows (good for catching mechanical problems), fuel used by trip or season, remaining fuel, and range. You can also choose data sources, set up your engine/tank configuration, and calibrate Lowrance fluid level and gasoline flow sensors with the LMF-400; it's quite visible in sunny conditions; and the little devil can be had for about $120, only $40 more with a flow sensor. In short, it does everything you could want in fuel management, inexpensively (see way below for more details).
But the LMF-400 is not just about fuel; it will show all sorts of data from engines (a Lowrance specialty) and other sensors on 13 customizable screen types. And you can have up to 16 such screens in active rotation, a record, I think. It doesn't do wind yet—come on, Lowrance, even some fishermen are interested—but of all the N2K gauges I've tried so far, it and the Maretron DSM are the only ones that can display rudder angle. I'm not sure why the special screen (below) shows the decimal place—no rudder sender is that accurate, is it?—but it's certainly a sign of what an able gauge this is.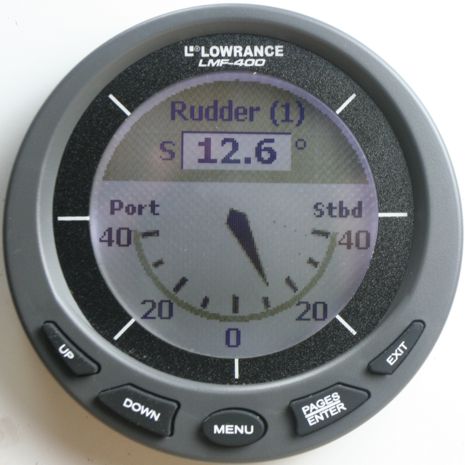 PS. Lowrance fuel management details: I could not at first get the LMF-400/FloNet/Maretron setup to show used and remaining fuel values, or range. It turned out that there were two reasons. One, Lowrance just won't calculate range based on tank level, figuring that tanks slosh around too much underway for accuracy (particularly true in small boats). Two, Lowrance stores used and remaining fuel values right in its own fuel flow sensor. That's smart in terms of having the data available and consistent system wide, but didn't work with the FloNet adaptors. However, Lowrance does make an EP-85R Storage Device that keeps track of flow-based fuel values. Plugging it in to my test network immediately provided the missing fuel data for the FloScan system. You'll also need this module if you're getting flow directly from a NMEA 2000 engine, as discussed here.
PPS. Why all the fuss about fuel management?