DeLorme & Spot, who knew?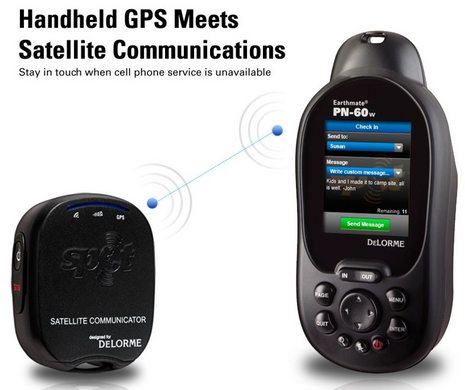 The gadget and GPS blogs are all over this combination of DeLorme handheld GPS and Spot messenger, which will apparently get official when the CES opens tomorrow. With good reason, too, because a user will be able to key a free-form text message into that new PN-60w and get it delivered from a lot of places where cell phones are useless. I didn't think a Spot could handle custom messages from the point of origin, and it sure makes me wonder what we don't know yet about the fixed marine model…

Not that the PN-60w isn't one powerful looking handheld. The best detail I've seen so far is on DeLorme's own blog (and I'm sure this unit doesn't suffer from the sluggishness and silly chart pricing I saw in the original PN-20). Valued GPS sites like GPSTrackLog seem disappointed that the satellite communicator isn't built right in, but the fact that the Spot component is so easy-to-pocket small, and appears to at least have an SOS button, might save someone's bacon.
But here's what I'm wondering: If DeLorme can send a satellite text message first via some yet undisclosed low-power short-range wireless protocol and then via that little communicator, why couldn't Garmin, Raymarine, etc. do the same thing from one of their MFDs which has a touchscreen keyboard or supports a real keyboard? Of course these messages are one-way only, and two-way global Iridium would be better, but DeLorme is going to sell that whole package above for $549 retail, and I'm not sure Iridium can get near what the satellite modem portion of that is. We also know that Spot is working on the HUG fixed boat system. If there was a connection between it and an MFD, don't all sorts of possibilities emerge, besides offshore text? Maybe somehow a great anchor alarm?