Bivy Stick, ACR's new satellite tracker with strong outdoor roots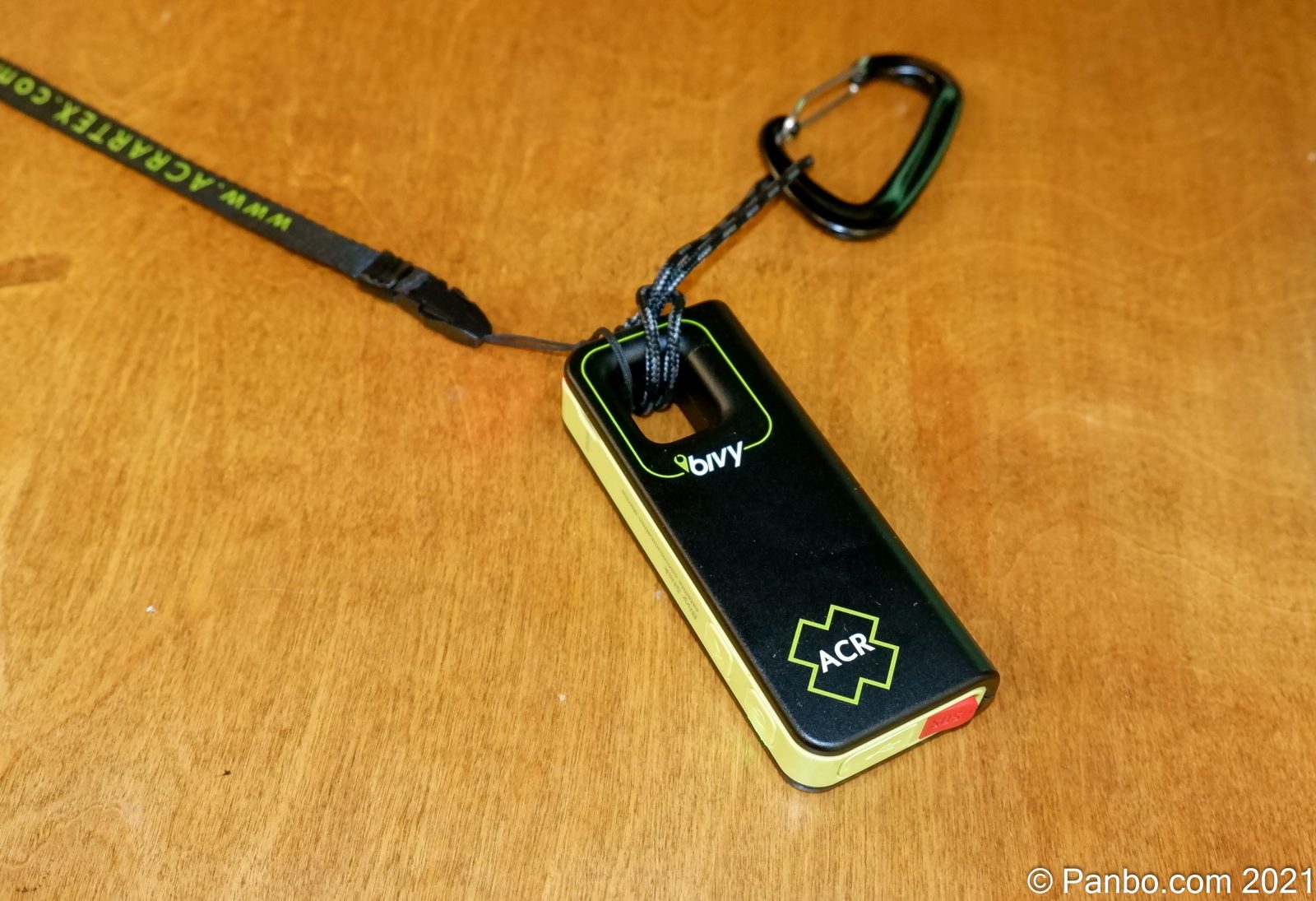 For years ACR has touted the merits of EPIRBs and PLBs as the preferred way to summon help when lives are on the line. So, when ACR announced they'd purchased Bivy, the maker of the Bivy Stick two-way satellite messenger, I was immediately anxious to get my hands on one. Let's see what got ACR into the two-way satellite messaging business.
The rectangular cutout in the upper left corner of the second-generation Bivy Stick ($349) gives it a distinctive look and makes for flexible mounting. The black body of the Stick looks good trimmed in ACR's distinctive safety yellow/green color.
During a conversation with Bivy founder Vance Cook, he explained that Bivy started as an app focused on making it easier to find trails and climbing sites for outdoor adventurists. Bivy grew out of a belief that printed guidebooks, with directions like "make a left at the third tall tree", could be improved upon with an app on a mobile phone and the use of GPS coordinates.
According to Cook, the app worked well, allowing users to track their adventures and share their location, as long as they were in cell phone coverage. But, the sorts of outdoor activities Bivy was tracking and sharing tend to happen outside of cell coverage. So, Bivy sought a partner with a satellite messenger they could integrate with their app. Not finding one, they set out to and built their own.
The hardware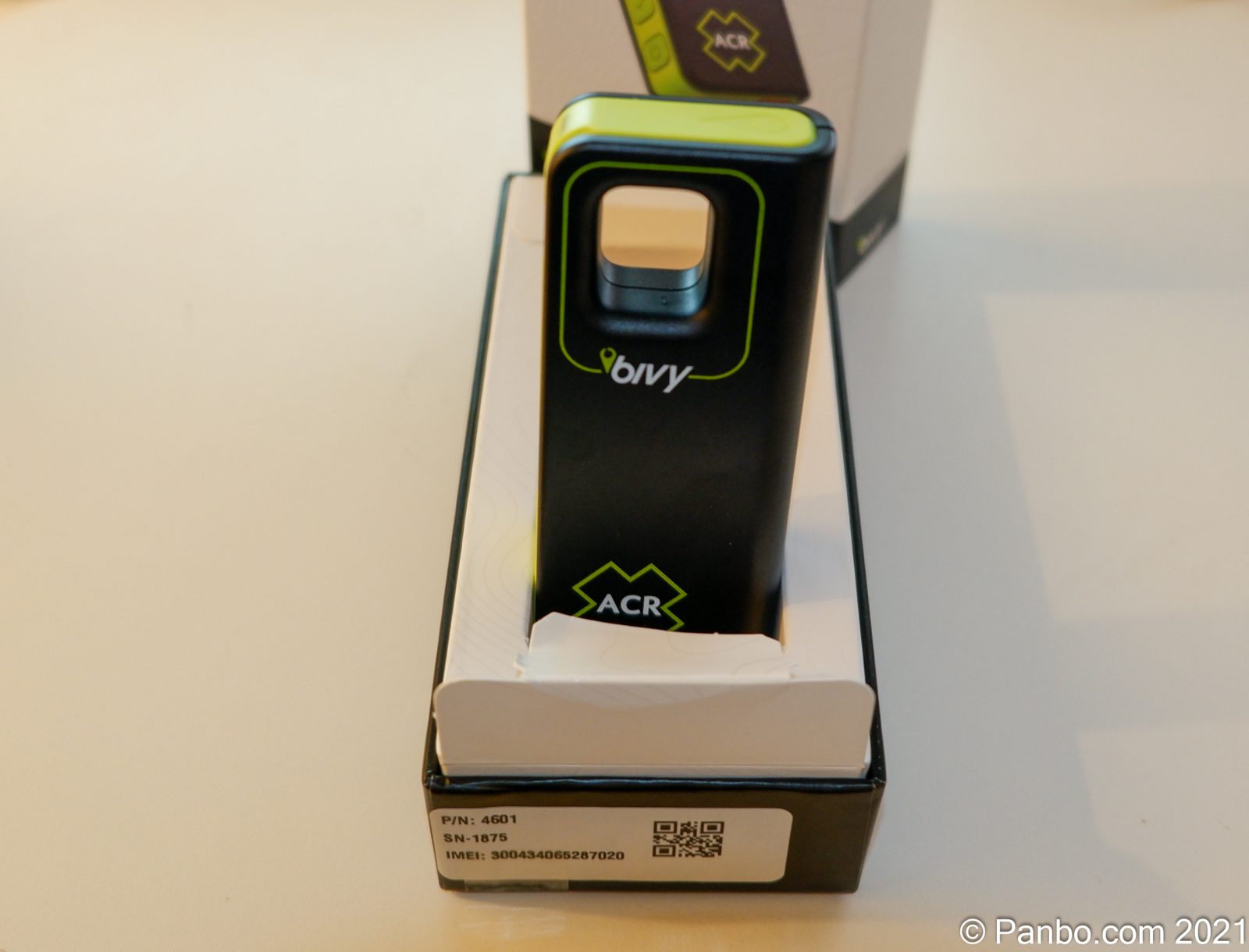 The Bivy Stick is a trim device with three hardware buttons and three multi-colored LED indicators. There's a power button, a check-in button, and a protected SOS button on the bottom of the device. Next to the power button, you will find a red, yellow, and green indicator to report battery charge level. There's another stop-light colored LED at the top of the unit to show signal strength. Finally, there's a four-color Status LED that blinks varying patterns to indicate if a message is being sent, message received, tracking is active, and SOS activation.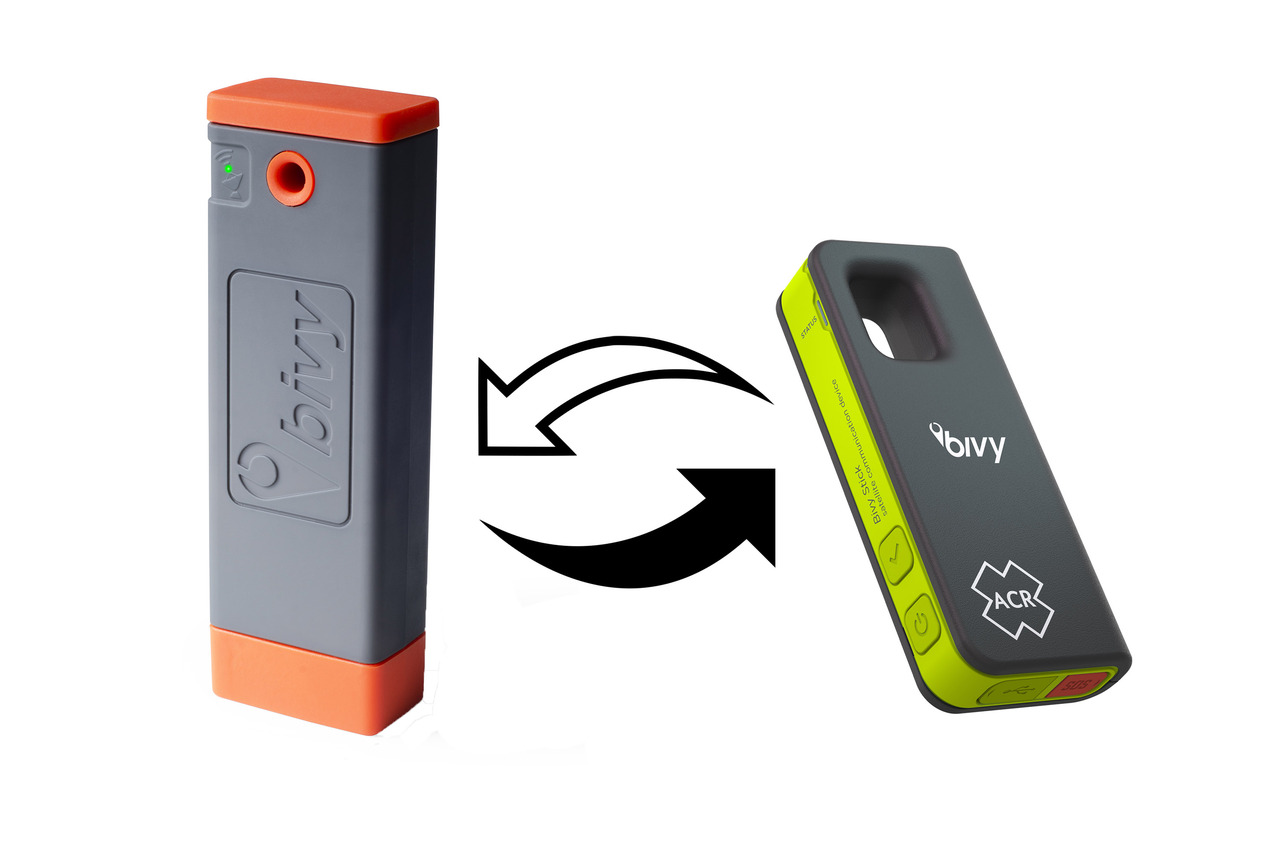 The current Bivy Stick is the second generation of Bivy's messengers. The first-generation messenger was larger, although it did look more like a stick. So, the second generation device retains the Stick moniker, despite bearing less resemblance to one. Although I'm not sure about Bivy's claim that it's the smallest satellite tracker in the world — I believe the InReach Mini is smaller — it is very compact.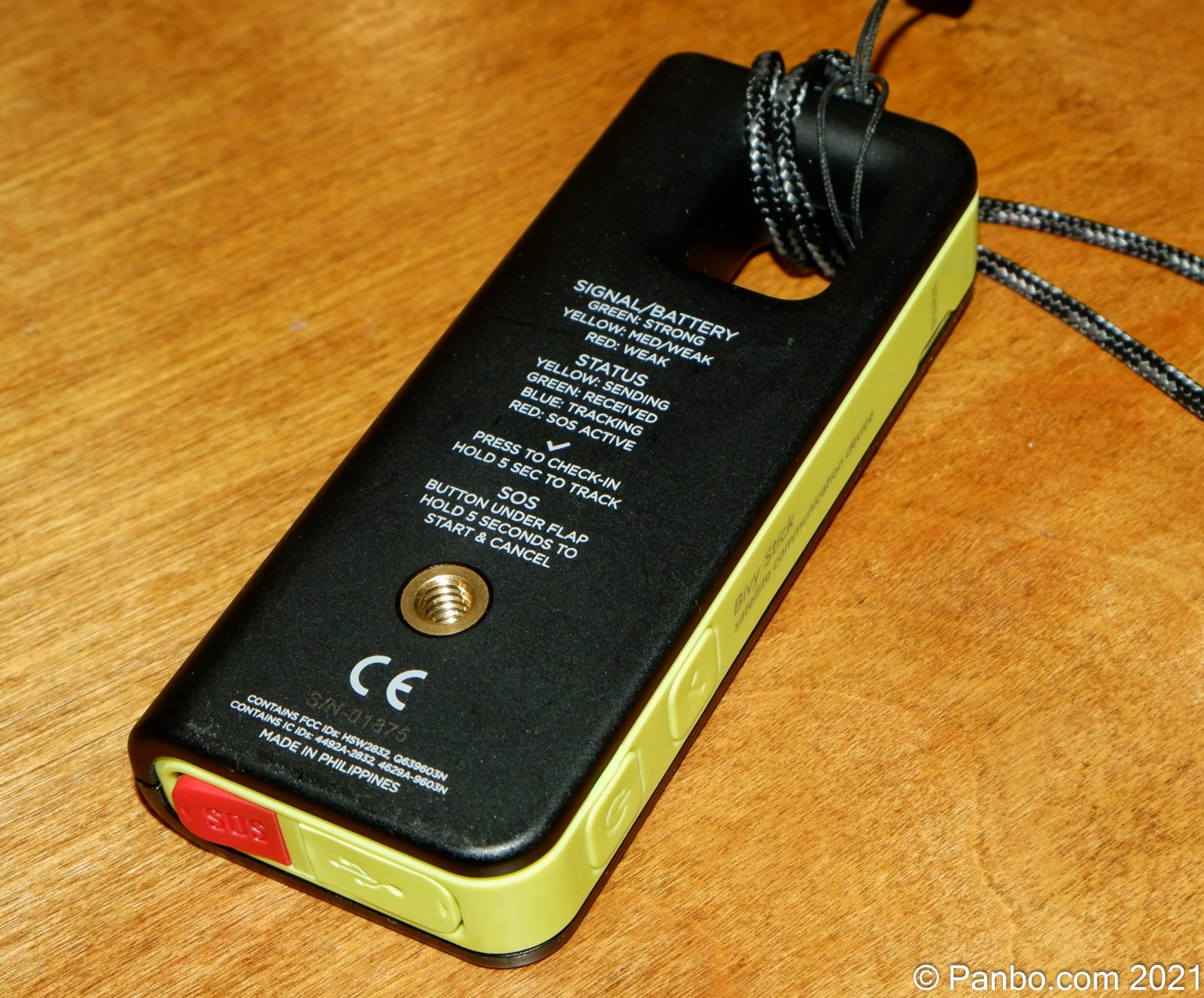 The Stick can easily slip in a pocket or clip to a PFD, backpack, or other clothing. The cutout and a tripod style 1/4-inch mounting screw on the back offer many mounting options. Also, Bivy includes a 1/4-inch to GoPro mount adapter to expand the mounting options. Plus, with an IP-67 immersion rating, it should stand up to anything but a deep dive with it on.
Bivy says the 1,500 mAh battery lasts up to 120 hours (or 5 days) in standard usage. During my testing, I saw battery life of about three days. While that's less than Bivy claims, I think it's enough for most uses.
Data Plans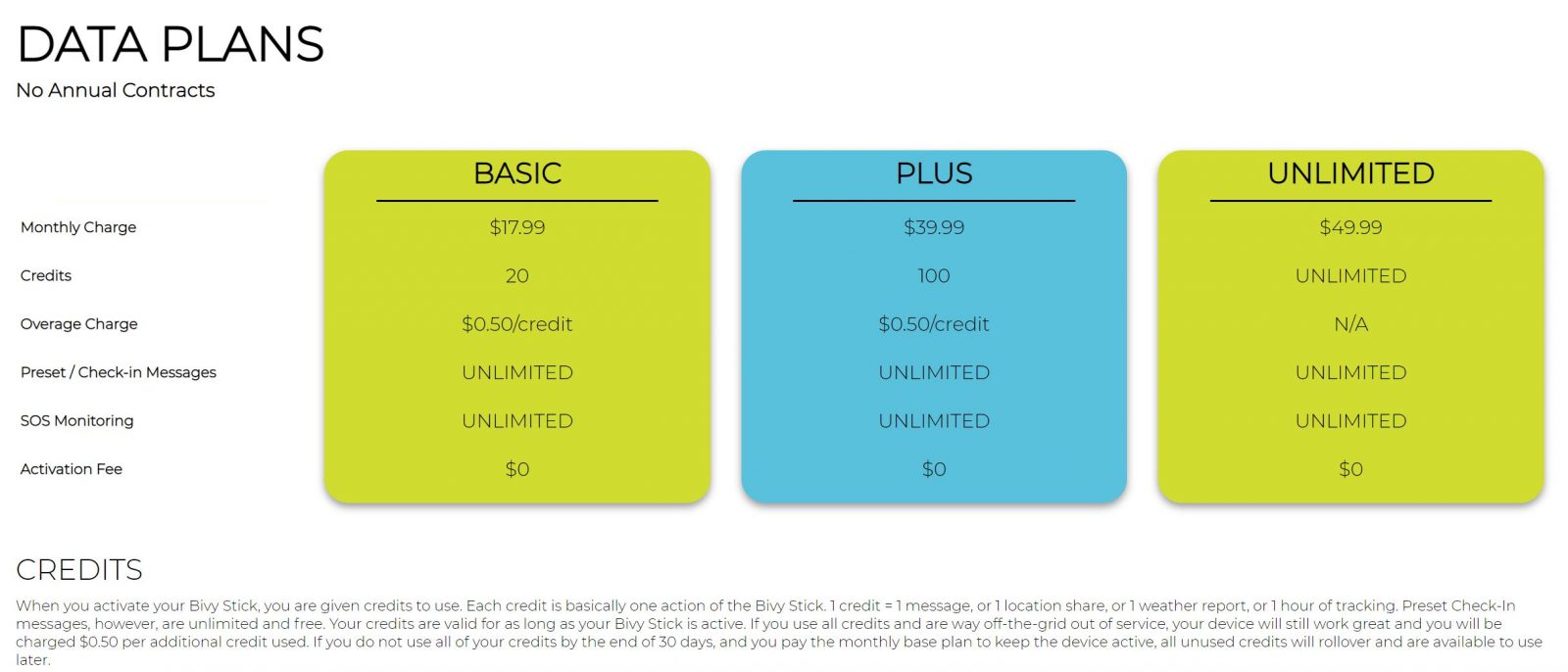 Bivy offers three data plans ranging from $18 per month for the Basic to $50 per month for their Unlimited plan. None of the Bivy plans require an annual contract nor do they charge an activation fee. This means that if you want to just have the device active for one month, it will only cost the subscription fee. But, if you have the Basic or Plus plan and do keep service active, any unused credits from the previous month will roll over to the current month.
The two lower plans offer either 20 or 100 credits per month. A weather forecast, a location share, a message, or one hour of tracking each consumes one credit. All plans include Unlimited preset check-in messages. The check-in message includes the device's current location but no tracking link.
Comparing cost, these plans sit in the middle between SpotX and inReach plans. Zoleo's plans are similar in price to Bivy's, but they require a minimum three-month activation period and a $20 activation fee. Plus, tracking is a $6 add-on to all their plans. To get the best pricing from the spot and inReach, you need to commit to a contract and pay an activation fee. Additionally, both charge a $25 to $35 fee for enrolment in their freedom or flex plans.
Spot's plans are, for the most part, cheaper than the other options. Spot is also the only of the four messengers that I've discussed using the Globalstar constellation. The other three messengers all use Iridium's constellation of satellites. Iridium claims complete global coverage for their constellation while Globalstar's coverage is more limited. Taking a look at the coverage map above it appears that Globalstar covers the areas most of us are likely to find ourselves boating in. But, the peace of mind knowing that coverage isn't an issue represents a real advantage for Iridium.
Using Bivy
The app
Most interactions with a Bivy Stick happen via the app on a smartphone. Using only the device you can send a pre-defined check-in message to a pre-set recipient, start and stop tracking, and send an SOS message. Any of Bivy's other capabilities will leverage the Bivy app. So, you'd be wise to make sure your phone is charged before heading out on a day's adventure.
Making my way through the Bivy app I found frequent reminders of Bivy's human-powered activity roots. The categories for tracking and searching activities lack options for boating except paddling. I suspect this is a minor issue to fix and don't think it really matters except for the categorization of your tracked activities. Given ACR's focus on the marine and aviation markets, I expect we will see this updated pretty soon.
Adventures
Bivy calls all their store activities adventures. A tracked activity's recording is also an adventure. Bivy has over 50,000 adventures in its database of activities. These include climbs, hikes, paddles, ATV and snowmobile rides, and more. Adventures maps are downloadable so they can be viewed without cell service. Although these adventures are part of the core DNA of Bivy, I think they will need to evolve to be a selling point to boaters. Paddlesports benefit from the types of defined trails, courses, or routes Bivy uses but I think most other boating activities won't fit as well.
Tracking
Activity tracking is initialed either from the app or with a press and holding of the check-in button on the side of the Stick. Bivy just introduced the ability to change the interval of satellite tracking from once every two minutes to once per hour. By default, the Stick will send your position once every ten minutes. If you start tracking from the app, aren't connected to the Stick, and are in cell service, the app will use that connection to upload more frequent tracking details and save on satellite usage.
Once an adventure is recorded it joins your list of tracked adventures. Tracked adventures can be viewed for analysis and edited. Adventures worthy of sharing with the Bivy community can be submitted.. Bivy reviews all submissions to ensure they're up to their quality standards and not a duplicate of an existing adventure. The screenshot above serves as a reminder that Bivy's analysis is built for human-powered activities. Much as I wish that driving for an hour and a half burned 66,000 calories, it just didn't.
Messaging
Activating a Bivy Stick includes assigning a phone number to the device. This means that the Bivy, like Zoleo, can receive texts via SMS just like a normal mobile phone. Garmin's inReach also supports SMS messaging but they don't assign a number to your device, instead, they use a pool of shared numbers. This means that inReach users must send a text to an SMS number before they can receive one. I think this is a major difference. With Bivy you can share your SMS number and anyone can text you, but, with inReach there's another step required.
Fom the Bivy app a user can send a message as an SMS message or an email. Emails sent from the Bivy app have a [email protected] return address and are broken up into message chunks similar to SMS. In practice I didn't find this created any issues but does mean that emails will be plain text only. Neither HTML nor message attachments will be supported.
Now is probably a good time to talk about the difference in delivery speed when sending and receiving messages via an LTE network versus with a satellite messenger. In my testing of both Bivy and inReach devices, messages took anywhere from 20 seconds to several minutes to be delivered. That's because, unlike a mobile phone, satellite messengers can't remain continuously connected to the network. Instead, they come into service as a satellite passes overhead and then lose service as it continues on its orbit. So, if a satellite happens to be right overhead, the message can be delivered immediately. But, if there aren't any satellites in view it may take a bit.
Weather
Bivy's weather reports serve as another reminder of their primarily land-based roots. Forecasts downloaded via cellular or WiFi connections have hourly data — and don't consume any credits — while satellite-delivered forecasts have two-hour increment forecast data. But, the forecasts don't include any wave information, and wind and precipitation information isn't provided on an hourly or every two-hour basis, only for the day.
SOS
In the event of an emergency, you can activate Bivy's SOS function either via the protected SOS button on the bottom of the Stick or via the app. There are multiple safeties to prevent accidental activations. The button has a cover over it and activation requires pressing and holding for 5 seconds. The app requires that you type SOS to confirm activation. Like every other satellite messenger I know of, GEOS (now owned by Garmin) handles SAR monitoring, dispatch, and coordination. SOS messages require an active Bivy subscription.
For my own comfort and peace of mind, I carry both a dedicated EPIRB (and PLB) and a two-way satellite messenger. I see them as offering complementary functions. The EPIRB or PLB is a purpose-built device that sends a distress message to a government SAR coordination center. It must meet stringent requirements for type approval and carries a battery designed to last throughout an emergency event. But, it also can't send further information to potential rescuers nor can it allow you to receive information back from those rescuers, all of which a satellite messenger can. But, at the occurrence of an emergency, your messenger's battery may be almost depleted. If the battery dies, so does your ability to update rescuers.
Final thoughts
It's definitely a change in direction for ACR to enter the two-way, subscription-based, satellite messaging field. I think they've done it with a good product that offers a comprehensive set of features and good performance. As I already mentioned, I believe there's a place for both satellite messengers and PLBs. I'm anxious to see if ACR can bring forward innovations that allow boaters to better leverage both.