Distributed power, no bus, no code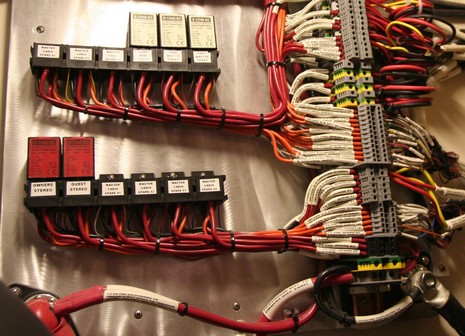 This (bigger here) is one of the DC panels on Electra. What's unusual is that its modern electronic breaker/switches do not connect to a bus and then to various microprocessor-loaded control panels, like, say, Moritz's Octoplex (my PMY column in PDF here) and other systems Nigel Calder has covered so well in Professional Boatbuilder.

Instead, Electra's E.E. owner has had individual wires run from every relay to control panels he designed and built himself. That's the back of several below, and bigger here. My Nov. PMY column will explain some of his thinking but suffice it to say that while he did not want a common bus or lots of software involved in his critical systems, he did want total control from the pilot house and lots of automation.
George Wallner does allow that his style of distributed power required an wicked amount of wiring, and you can see in these photos what a remarkably tidy and well-documented job the guys at Lyman-Morse did. There's a Billy Black picture of the whole pilot house panel array under construction included in the online version of a piece I wrote recently about Lyman-Morse's rather amazing woodworking department. Please check it out; it's got nothing to do with electronics but it's a bit of writing I'm particularly proud of.