EarthNC Plus, & I'm outta here…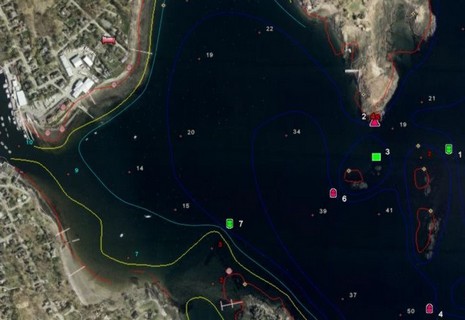 Following up on yesterday's entry, here's what the full EarthNC Plus looks like in my home harbor. Note the spot soundings and bathy lines. The 1:20,000 harbor chart has not become an ENC yet, but this represents all the essential data from the 1:40,000 coastal chart overlaid on what's in many places (like Camden) the highest resolution photography available. But, of course, Google Earth's photos live online, and as best I can tell, EarthNC Plus does not yet have a way to cache them to a laptop. Plus the suggested method of GPS navigation on these charts is Goops, which didn't impress me.
Also, if you could see better res of the screen above, you'd see that the ENC is slightly out of register with the photos. A registration problem is much more obvious in the screen below, bigger here, though admittedly that's a small part of a large area chart that extends outside NOAA's area of responsibility. The real reason I chose it is to show where I'm off to for a week of PMY "meetings". Posting may be erratic from the the Bitter End Yacht Club. I'm packing a GPS, though, and maybe I can figure which is correct, the ENC or the Google photo map. As for EarthNC Plus, I can not picture using it for navigation at this point, but I can see buying it just to encourage the developers to keep at it.