Electronics au France, ooh la la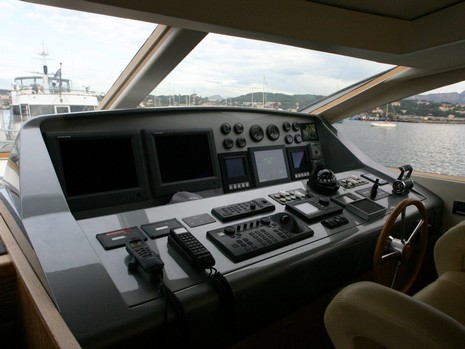 Truth is I'm a little out of sorts, what with a stressful flight across the Atlantic, a missed flight in Paris, and a lost suitcase still not shown up 30 hrs later (there's one of them French strikes going on). But, despite the fact I'm wearing the same clothes I left Maine in (and learning how to crank up Euro towel warmers to dry hand washed underwear), I had a great day touring megayacht yards in Toulon, La Ciotat, and Marseilles. These guys are intent on turning much of the withering shipbuilding assets of the region—man skills, cranes, drydocks, etc.—toward maintaining and refitting the world's growing population of really big yachts. I saw evidence that the strategy is already working, and the future looks rosy indeed. It strikes me as smart that they're not trying to compete with Italy, Germany, and the Netherlands at building these beasts, but instead are putting together the biggest yacht repair yards the planet has ever seen. This thought was confirmed by an American superyacht captain I ran into who said that South Florida has really blown its chance to keep being a significant megayacht center into the future—no new space. Oh well.
Above is the exception to the rule (bigger here ), a brand new mega speedboat from French builder Couach. This is only about 80' but quite impressive with its gray gelcoat deck and surface piercing drives. The winner at the helm is Furuno with twin monitors, black box radar, black box NavNet, and a few RD30 data displays all onboard. There's also a Simrad AP50 autopilot, and the only lit screens are a systems monitoring device I couldn't figure out the maker of and a multi camera display. That's Toulon in the background. I'm headed to Voiles des St. Tropez tomorrow and will post if possible.