Fischer Panda UK Announces NMEA 2000 Certification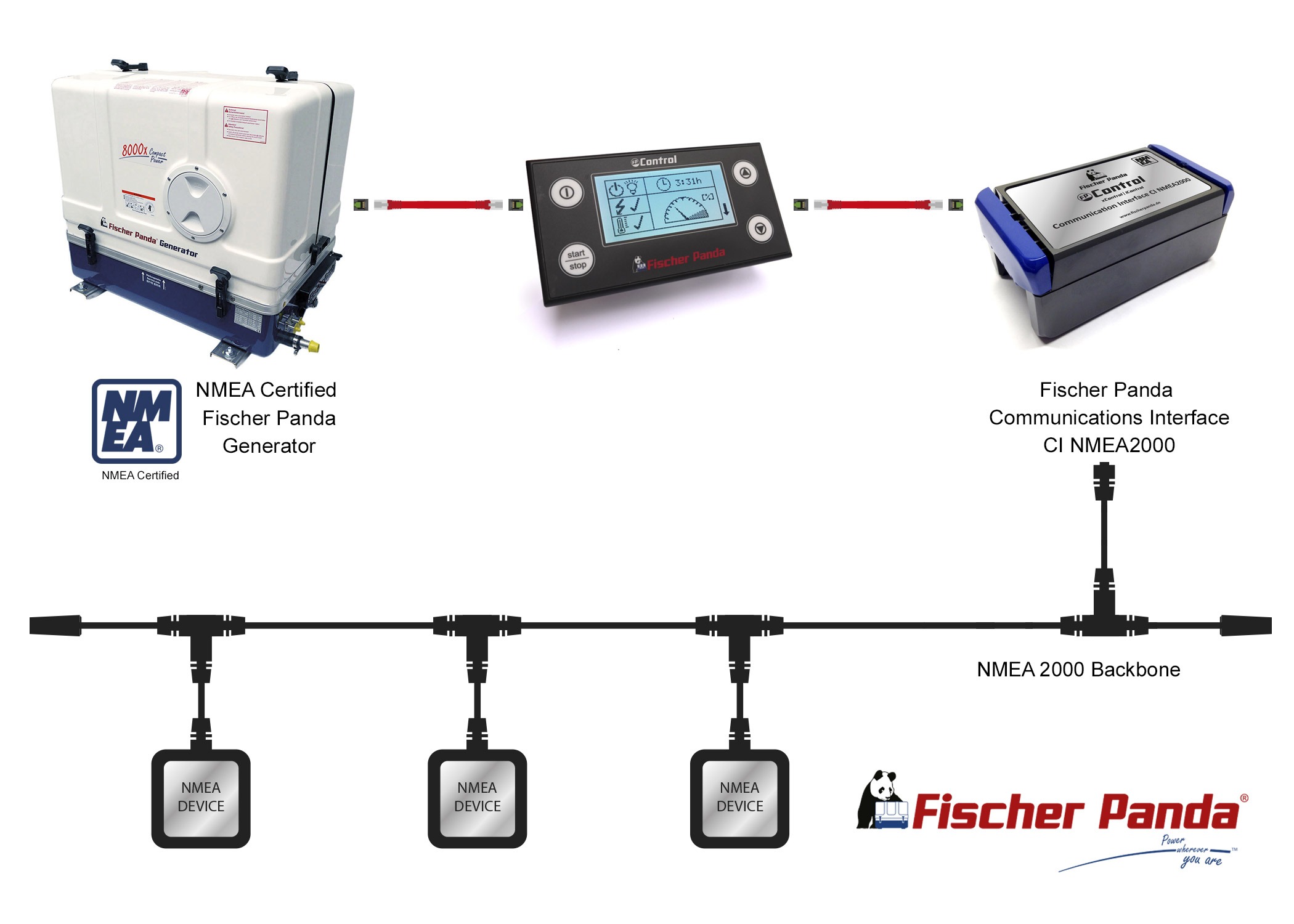 Fischer Panda UK has announced that its latest generators are now officially NMEA 2000 certified.
Enabling easy integration of compatible generators with other on-board systems, the new National Marine Electronics Association (NMEA) certification confirms that Fischer Panda GmbH fulfils the requirements for the widely recognised communications standard for marine electronics equipment.
Fischer Panda UK's xSeries and variable speed iSeries gensets will now be marked with the NMEA 2000 logo, indicating they can interoperate properly with other certified products. Using the plug-and-play communication system based on CAN (Controller Area Network), equipment designed to the NMEA 2000 standard has the ability to share data, including commands and status, with other compatible equipment over a single channel.
Fischer Panda UK's Sales and Marketing Director, Chris Fower, said: "The NMEA 2000 sign off is a significant milestone for Fischer Panda as a manufacturer. It provides further confirmation that the company is at the forefront of developing fully certified solutions for OEMs to support the move towards single point control and monitoring, simpler and easy-to-use cockpit dashes and unified control panels.
"For Fischer Panda UK, the certification is a positive development as it coordinates perfectly with our business approach to offer customers integrated and complete systems supported by our comprehensive design, supply, installation and support services. Now we can provide the whole package – generators, Sea Recovery water makers, Mastervolt and CZone mobile power solutions and smart digital switching systems, and air-conditioning – all through the NMEA 2000 network."
All Fischer Panda generators that come with xControl, iControl2 or fpControl can be connected to an NMEA 2000 network. Communication between certified Fischer Panda generators and the NMEA 2000 bus is achieved by using an NMEA adaptor.
The NMEA is a US-based marine electronics trade organisation which sets standards of communication between marine electronics. NMEA 2000 is a communications standard that requires serial data communications networks to interconnect marine electronic equipment on vessels.
Further information about the Fischer Panda NMEA 2000 can be found on the Fischer Panda Knowledge Base website on this page: https://knowledgebase.fischerpanda.de/?p=3454
For more information about Fischer Panda UK's range of products, visit www.fischerpanda.co.uk.