Fleet Broadband, today's the day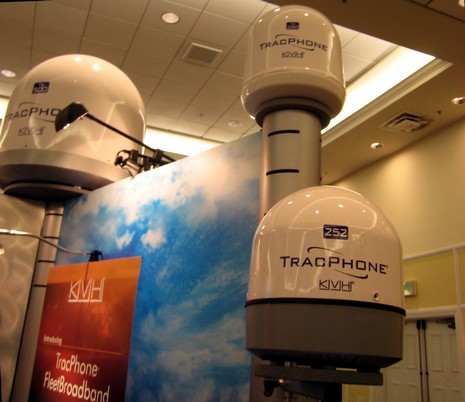 It's official. Today Inmarsat flipped the switch on the marine version of BGAN, dubbed Fleet Broadband. It's been a while coming, as noted here last March, but the good news is that the smallest dome turns out to be less than a foot tall. Thus the new KVH TracPhone FB250 is almost the same size as the company's existing TP 252 dome (Inmarsat Mini-M), as shown above in a photo I took at the NMEA Conference back in mid-October when KVH officially introduced the products. The big difference is that the Mini-M offers "dial-up" style data service "up to 9.6 Kbps" while the FB250 offers a "standard IP" always-on connection "up to 284 Kbps". The bad news is that this wee dome still costs about $13,000 and pay-as-you-go data is about $13.50 per MB. Now that data cost is less than the earlier Fleet series (which charged in megabits not megabytes), but it's still wicked costly if you want to surf the Web the way most of us do at home or work.

There's a lot more to Fleet Broadband, like the bigger/faster FB500, and all the tricks the BDU (below decks unit, shown below) has up its IP sleeve, like simultaneous high quality voice calls. KVH has the info pretty well laid out, though note that most of its FB gear is in fact built by Thrane & Thrane. Harder to understand is the complex business structure of Inmarsat and where it's headed versus the highly competitive and evolving VSat systems (like KVH's own TP V7). What's a big budget yacht to do? And will us smaller budget boaters ever get offshore broadband? I learned bits and pieces about the first question at all three shows I went to this Fall, and you'll be hearing more as I sort it all out. As for the latter question, anyone have a guess?