Free Range Radar, Navico Broadband and Expedition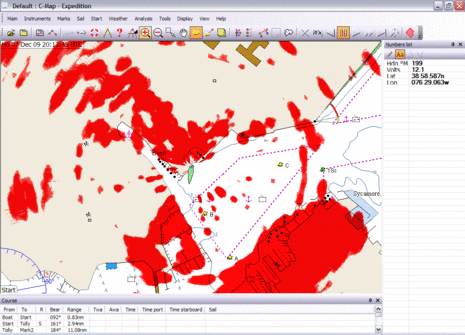 Excellent and surprising news, I think: As of yesterday, the widely respected racing/navigation program Expedition supports Navico's Broadband Radar straight up, no Navico MFD required in the system unless you want one. This means a lot for the serious racers who favor Expedition, and it may well mean a lot for the rest of us…
Here's Pyacht's Rob Emmet, who sent me the news:
Not sure if you're familiar with Nick White's nav
software Expedition. If you're not it is high end racing stuff that is
getting better by the day. Just about every grand prix racing yacht is
using it these days.

The idea for integrating Simrad's BR24 into Expedition was hatched in an Annapolis bar during the boat show. A few non-disclosure agreements and two months later and the system is up and running. Screen shot from yesterday's testing on Annapolis City Dock attached. As background, the scanner was 2M off the water and the tuning was all factory default. As a racing navigator, I think this is huge. All the radar controls are built into Expedition. You get all the features of the BR24 like instant-on and very low amp draw right in the Navigator's hands. And I mean literally in the Navigator's hands on deck or on the rail because this all works with the Panasonic Toughbook wireless displays we're all using.
In fact, I am slightly familiar with Expedition as Gram Schweikert is another fan, and I saw him use it along with the SailDocs data he once tutored us about to do some amazingly detailed routing en route from Bermuda in 2007 (photo below). And I dare say Expedition will be heavy use when Visions of Joanna departs Ecuador for the great Pacific sat comms test. The fact that I haven't written about Expedition before was a gross oversight, but one I'm going to take care of as I now have a licensed copy to check out myself. I'm impressed that it not only supports Broadband Radar, but also direct NMEA 2000 data, AIS included, via the Actisense NGT-1 Third Party Gateway. I was also glad to hear from Expedition developer Nick White that "there are plans for a simpler version with fewer exotic data,
analysis and instrument options."
But there's a much bigger picture here. If Navico is willing to open Broadband Radar up to Expedition users, no strings attached, isn't it likely that it's also sharing the SDK with other developers, like maybe Rosepoint Navigation? I don't know that for a fact, but wouldn't it add a significant feature to the BR24, and actually to other Navico products like the new NSE MFD series? Yesterday I was out testing the latest revision of the NSE12, along with the BR24, N2K AIS and more (sadly the last Gizmo cruise of 2009). I can tell you that the system is really coming together (which I'll detail in a future entry).
But, wow, doesn't this news mean that I might be able to easily and fully integrate in a lower station PC running Expedition, or maybe Coastal Explorer, or MacENC, or whatever…using just Ethernet and N2K cables, and able to keep on running even if the NSE crapped out? And isn't this a shot across the bow of Furuno/MaxSea with their powerful but less open MFD/PC integration architecture (discussed at length recently)?