Garmin 5000 series for real, and here comes Faria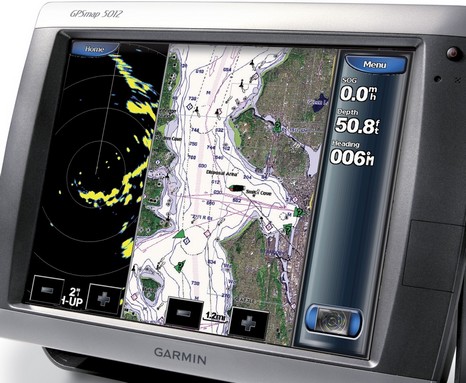 Now it's real—or at least officially announced and supposedly shipping in June. Garmin went "no comment" when hints surfaced of the 5000 touch screen series six weeks ago, but here's a picture (bigger here). The specs on the four 5000 models are very similar to the already much anticipated new 4000 series, except for the touch screen interface. (Which Garmin seems fully committed to; I only see a single power button that casing.) This developement would make my PMY prediction—that Garmin's Miami booth will be very busy—even truer…if it weren't for a monster storm messing up many travel plans.
Also here in Miami, Faria will introduce the "Maestro Touch Screen Navigation and Command Center" (at Booth G65). I got a preview of these 8 and 12 inch units last month, and think Maestro is big news. The key is a Maptech's really refined touch screen nav software combined with Faria's skills at manufacturing and at interfacing with all sorts of engines and other gear. If you make it to Miami, check out Maestro (and, heck, the touch screen Northstar 8000i too, which I'm told is finally shipping in quantity). The year of touch screen?