Garmin 5212, what's wrong with this screen?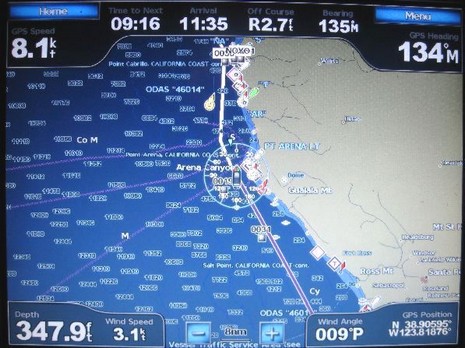 Last week I got a call from Phil, who's cruising his Tayana 55 down the West Coast, headed for Mexico and beyond. He "loves" his new Garmin 5212, except for an interfacing bug that he's hoping someone (Garmin?) can help with. Check the photo above, which shows the standard chart display with its dashboard style numerical data. The way that works is that under the Menu key you have four categories of data that you can set to Show, Hide, or Auto (i.e., show only if there's appropriate data). I know from my own testing that Phil has the "Navigation" either on Show or Auto and hence is getting the info across the top, which is putting him right on his long SE leg toward San Francisco, 9 hours to go at 8 knots. He's also put "Sailing" data in auto mode (and has the 5212 hooked to his Simrad instrument system), which is why you see not only wind speed and angle along the bottom, but also the wind indicator around his boat icon. I don't know if he's set Wind to Apparent or True (or if Garmin can cope with Ground/True subtleties), but the real question is why the heck is that boat icon headed North?

That's the rub! Phil's been told by Simrad that its instruments output all standard NMEA 0183 strings, whether it has data or not (which doesn't make a lot of sense, but is supposedly OK under the standard). The Garmin is apparently seeing a null value heading string coming in and assuming that means 0 degrees North. If Phil disconnects the 0183 connection, the 5212 doesn't see any heading so uses COG to point the boat icon properly, as seen below. But then he doesn't get wind, or depth, on his dashboard. Has anyone else seen this problem and/or know how to fix it? Myself, I think Garmin still a ways to go with its NMEA 0183 abilities. For instance, I was surprised the other day to discover that while the 430 mounted on Annie G. is getting most Tacktick data fine, including water temp, it will not show the depth and boat speed info coming from the same triducer. I suppose it could be a Tacktick issue, but I doubt it. And I should add that I haven't yet updated the 430 to the latest software rev. This, sigh, is how it so often goes with new systems and with 0183 interfacing in general.