Garmin adds more power to its industry-leading Fantom series Solid-state, pulse compression marine radars now with 50W and 120W of power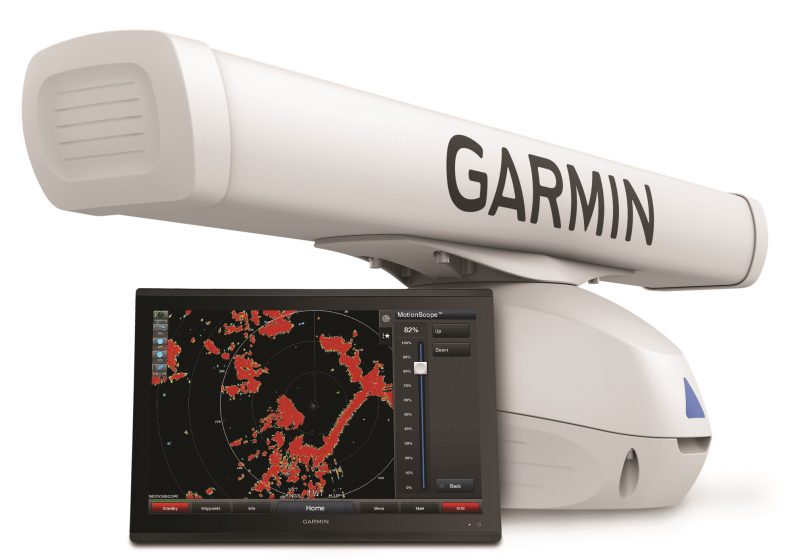 OLATHE, Kan.–(Business Wire) – Garmin International, Inc., a unit of Garmin Ltd. (NASDAQ:GRMN), today announced the GMR FantomTM 54/56 and Fantom 124/126 – the next evolution in its solid-state pulse compression radar series with MotionScopeTM Doppler technology, offering 50W and 120W of power output respectively, the most in its class. Garmin Fantom radars were the first to allow mariners to see targets moving instantaneously thanks to MotionScope technology. Now, with more than double the power output of existing Fantoms, the new series offers improved detection range with more precision and target separation at both close- and long-ranges in a solid-state solution for recreational boaters and fishermen alike.
"More power means you'll get more consistent target positioning, excellent target separation and unprecedented close- and long-range target detection for a clear, concise image of the shoreline, other vessels, flocks of birds and impending weather right on your Garmin chartplotter," said Dan Bartel, Garmin vice president of worldwide sales. "The new Fantom 54/56 and Fantom 124/126 are the most powerful solid-state pulse compression radars available on the market today, and we're excited to deliver a solution that offers this much performance, reliability and ease of use."
Available in a 4- or 6-foot open array, the Fantom 54/56 and 124/126 series uses the Doppler effect to detect and highlight moving targets to help users avoid potential collisions, find flocks of birds, and track weather in a single ping. With its pulse compression technology, Fantom radars provide high resolution while maximizing energy on targets to enhance detection and identification of targets. The Fantom 54/56 offer 50W of pulse compression power output, the approximate equivalent to a 6kW magnetron, while the Fantom 124/126 deliver a 120W power output, the approximate equivalent to a 15kW magnetron. Pulse expansion can then maximize target size to help differentiate real targets from noise. No warm-up time is needed, so mariners can start tracking targets instantly.
The Doppler effect is the frequency shift in the radar echo due to the relative motion of the target. This allows for instant detection of any targets moving toward or away from the radar in real time. MotionScope highlights the moving targets on the radar display with an easy-to-see color so that users can navigate around other boats or severe weather, or toward fishing spots where birds are feeding at the surface. When the Echo Trails setting is turned on, a fading "trail" on the screen can help easily identify the direction of the moving targets and potential collision threats. The trails shown are corrected for the boat's rotation when an autopilot or heading sensor is connected to the Garmin Marine Network.
The Fantom series offers excellent range performance with close- and long-range detection; the Fantom 124/126 delivers detection as close as 20 feet to 96 nautical miles, and the Fantom 54/56 offers a detection range of 20 feet to 72 nautical miles. Each new Fantom radar has a narrow horizontal beamwidth that provides a high-resolution image, and the high antenna gain picks out weak targets at a distance. All Fantom radars also offer a dual range feature, so mariners have the ability to see both close- and long-range views simultaneously, with an overlay on a chart for one or both ranges. This eliminates the need to toggle between views, and allows
the captain to keep a close eye on immediate surroundings and those on the horizon to ensure weather patterns, land and structure can always be observed.
These powerful new radars also offer Auto Bird Gain, a unique feature that lets mariners easily locate flocks of birds at the water's surface, indicating a potential hot fishing spot. They also come standard with dual radar support that provides radar redundancy and more flexibility to view different data on independent display units. Dynamic Auto Gain and Dynamic Sea Filter continually adjust to surroundings, water and weather conditions to provide optimal performance while reducing excess noise and clutter. And MARPA settings enable the tracking of 10 targets simultaneously.
The new Fantom 54/56 and Fantom 124/126 series are compatible with the GPSMAP® 8400/8600, 8000/8200 and 7400/7600 series multifunction displays, and the GPSMAP 10×2/12×2 and GPSMAP 7×2/9×2 series chartplotters. Expected to be available in Q3 2018, the new Fantom 54/56 and Fantom 124/126 radars have suggested retail prices ranging from $5999.99 to $8499.99. For more information, visit www.garmin.com/marine.
Full press release: http://newsroom.garmin.com/press-release/marine/garmin-adds-more-power-its-industry-leading-fantom-series