Garmin AP, P47 worthy; how about you?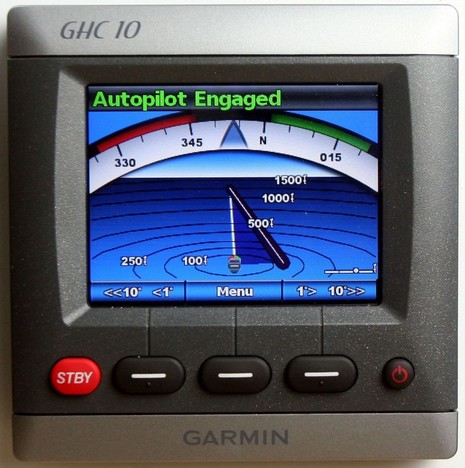 My December PMY column on Garmin's GHP 10/GHC 10 autopilot system is now online, and I want to add a couple of illustrations and links. One is the GHC's go-to-waypoint screen, above and bigger here. When I suggested it might be "slightly too fancy", I meant in comparison to other fancy yet easy-to-understand graphics seen on the little GHC/GMI screen, like the column's opening photo, bigger here. In fact this was beta software, and I didn't get to try the waypoint function on the water; the screen may seem less busy in use, or it may have been changed. I do see an unfamiliar autopilot screen on Garmin's fancy new marine networking site.
Unfortunately Kathleen—the boat I watched the Garmin AP get installed on—got hauled suddenly due to an impending hurricane (and other issues), which is why the column helm photo was actually taken ashore, as you can see here. Hopefully, I'll get more experience with her in the spring. Or, if I get down to the Chesapeake, I can probably bum a ride on the Krogen 44 that served as a primary Garmin beta site, and whose salty owner is now a true believer. I doubt I'll be surprised, though. While comparing autopilots is tough—because the boats they pilot vary so much—the ease of set up (see config menu below) and nearly instant high performance I witnessed on Kathleen were pretty darn special. In fact, I've been on several autopilot demos since then, and none seemed to function quite as perfectly as the Garmin, though they'd been expertly installed and were being tweaked by company reps. Which is why I think it's worthy of my favorite new cruising boat, the Maine Cat P47…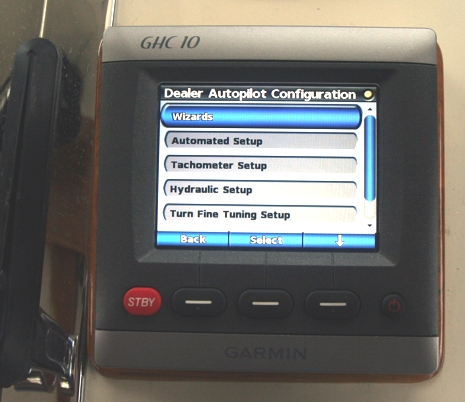 Regular Panbo readers may recall that I kicked off 2008 by putting a deposit on this efficient and handsome power cat when it was still the P45. A lot has happened since! The boat grew—more engine room meant longer hulls to maintain the extraordinary beam/length relationship—while many of us watched our assets shrink. I now look back on my tentative P45/47 purchase as a nadir moment of "irrational exuberance" but, no worries, I am smiling about it. It's been great to watch hull #2, the first real P47, materialize. That's her below last week, a dite behind schedule but coming out beautifully. I've also been kibbutzing a bit on systems, and am impressed with how well Dick Vermeulen is balancing "latest and greatest" with "first class and reliable."
However, while I remain a huge P47 fan, I've decided not to become a P47 owner. But that creates a wonderful opportunity for another fan. Rather than just getting my deposit back, I can transfer my contract along with the considerable discount and favorable build slot it includes. I'm serious, friends; if the P47 is the right dream boat for you or someone you know—and especially if it would be based in New England—this could be a win/win/win situation. (Please email me or leave a voice message here.)
By the way, now I'm having fun looking for a good used Downeast-style cruiser around 36', which is more appropriate to our near term cruising plans and will also fit on the Camden Inner Harbor float we recently acquired.