Garmin BlueChart g2 & g2 Vision 2010, lots new?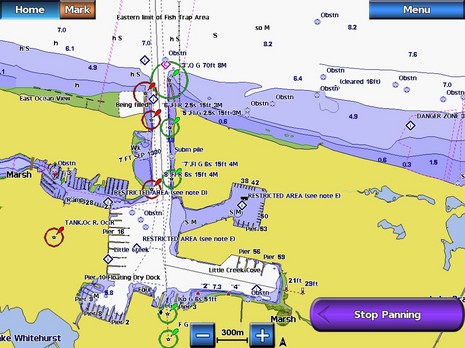 Today Garmin announced that updated 2010 g2 and g2 Vision BlueCharts are now available, apparently with some interesting changes. If you recall, the company got pretty excited about the 2009 edition, but then suffered some grief when a processing error caused a global recall. I'm not sure the 2009 charts ever got out, but I'm darn sure that all new editions go through some serious quality control. I can't really tell from the screen shot above what the "redesign" talked about in the press release is like, because it largely involves "transitions between zoom levels" and other possibly valuable improvements that you need to see in use. But I did immediately recognize that busy harbor as Little Creek, VA, because I once departed to Bermuda from there, and there are a few new features that print can describe better…

For instance, while the new g2 and g2 Vision charts are available on pre-programmed cards right now, starting in April customers will be able to download regions of either flavor to their own SD cards. There's also a new feature in both chart levels that allows a user to add contour shading to all depths below a selected figure. Which sounds like what both Furuno and Raymarine have been offering for a while, and which is a valuable aid to situational awareness. Both chart levels are also going to include animated current arrows.
But I was rather struck with this screen shot of the new g2 Vision's 3D Fishing mode, because I've never seen it looking so good on my test 5212. But actually I haven't used that mode much recently and when I fired up the machine in the lab this afternoon, it turned out that one or another of the recent software updates has made it a lot better. That's Garmin style.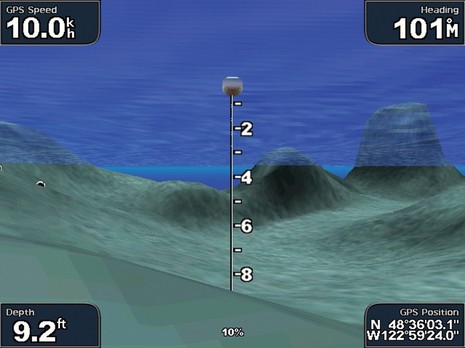 In fact, I learned that somewhere along the line Garmin added the ability to show fish symbols as colored balls in this view, color dependent on signal strength I'd guess, and that they're saved for a while so that when you circle back on a "school" they're still hanging there at the depths originally targeted. The image below was taken with the 5212 in simulation mode, which is why the target depths don't match up with the chart based depths seen in the transducer cone at left. The fish symbols on the right were saved from my last pass, and the black lines up there at the surface are my simulated tracks. Besides making me feel a bit like a fish myself, I'd call it a very unusual, and rather cool, fishfinder view, except that I saw something similar five years ago. But that's not a bad thing; some good ideas have to get repeated before they stick.
And, yes, as hinted at the bottom of the screen, I've now got a Garmin GXM 51 on the NMEA 2000 backbone, and I'll write about that soon. There's also significant news from Navionics about their fishing charts and planning software. All good.