Garmin Colorado, next gen handheld?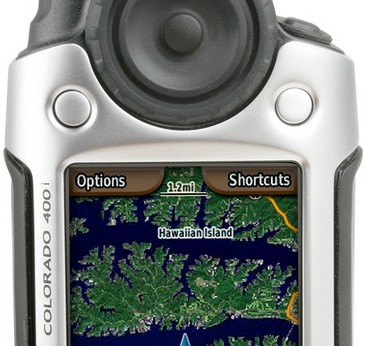 Last night Garmin announced a slew of new mobile products, and I must say: WOW! Check out the Colorado, a high-end handheld designed for driving, hiking, boating, and…um…multimedia, location-aware, gaming/educational experiences! The interface is neither old Garmin handheld nor new Garmin marine, instead featuring that big 'Rock 'N' Roller' thumb wheel/cursor thingy, and two soft keys. The wheel brings up a spinning menu system (seen right) that's a bit like Furuno's RotoKey.

The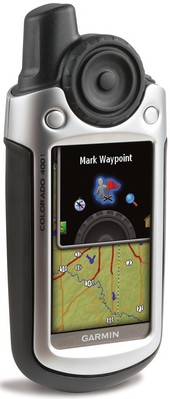 hardware specs sound spectacular: bright, 3", 240 x 300 pixel screen in 65k colors; "high sensitivity" GPS (perhaps like G's new N2K sensor, which can be mounted under some decks); 15 hours on 2 AA batteries; 2–axis compass; altimeter and temp sensor; waterproof to IPX7; and, dig this, ANT wireless for sharing routes, etc. (and who knows what to come). There's also a USB port, an SD slot, and lots of flash memory. Aside from the amount of that memory, Colorado seems to be a single hardware/interface platform which comes in four models, starting with the $500 base model 300 and moving through three $600 models pre-loaded with 3D topos (the 400t), inland waterways (400i), or coastal BlueCharts (400c). But I bet some boaters will buy an "i" or a "t", planning to insert their existing BlueChart G2 cards for marine use. It looks like Colorado may also work with older BlueChart CD-based charts, or any other Garmin cartography including photo maps. And it can play Wherigo files, that very new "experience" thing I mentioned, which might enable extraordinary "cruising guides". There's lots more Colorado info at this Garmin site, as well as at this special Garmin CES preview (which includes several other new products, like the nuvi 880, with might-trickle-down features). My first impression is that Colorado may mark a new generation of handheld plotter power…but then I stumbled on the DeLorme Earthmate PN-20, which can even display NOAA raster charts. Oh my.