Garmin's new XM Weather, first impression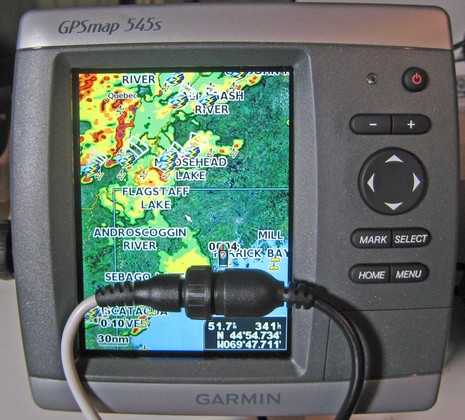 I've got the new Garmin GXM 31 hooked up to the 545s, and am once again impressed with how deep this "product line refresh" really went. I've tested Garmin XM weather on several devices over the years, and saw the interface get better and better. But they threw a lot of it away in favor of an easier, if less tweakable, presentation. For instance, the only control you have over the main chart overlay above is weather on/off, Nexrad animation on/off, and legend on/off. But the data selection is good (yes it rained shortly after that photo), and for more weather you go to the main Information menu where you'll find a selection of weather presets, each modestly tweakable from the menu key. I didn't have the manual at first, but pretty much figured out all the possibilties on my own.
The reason I stuck the GXM 31 cable in the picture is because that's a waterproof USB cable, which powers the unit and delivers the goods. In this case it goes to a short black splitter cable that provides RCA audio plugs. Yup, you can see what's playing on all umpteen XM stations, set up your favorites, even control volumn level. The USB plug goes directly into the new 400 series MFDs because they do not support audio. At any rate—and this may be due to my inate cheapness—I'm wondering if Garmin will make it possible to use this same antenna or one like it with car navigators, maybe even PCs? That way you could use your expensive XM subscription in several places. That's particularly important because, in my opinion, the $30/month "Fisherman" and "Sailor" subs are each so data crippled that you have to go with the $50 "Master Mariner."
Contrary to my earlier doubts, the weather data does generally read well on this 5", but hi res, screen. However updating as you scroll around is slow; Garmin may be able improve that as they refine the software. Finally, there's now a 4212 in the lab. I took it for a spin yesterday and was fairly bowled over with features expected and unexpected. Here's where the new interface really sings. However, there was a not nice surprise too. I'm waiting on comments from Garmin, and will explain more soon.