Geeks versus the evil M.E. empire, part 1
Last week, when I enthused about plotters displaying DVDs, reader Don Parker unloaded on me about how easy this is to do with an onboard PC. He further expressed his general disgust with the "megalomaniacal" marine electronics industry and took a shot at me for failing to point out "when the value added doesn't justify the price". And Don is not the only smart, techy reader who has a bad attitude toward the electronics companies, and thinks I'm too positive about them. A recent e-mail from Mike took me to the woodshed over the enthusiasm I've expressed for NMEA 2000 here and in PMY, and ended with, "You need to think hard about whether you are a reviewer, columnist, or cheerleader for the industry." Ouch!
Don and Mike are both computer industry veterans and both have some points worth discussing, but first some generalities. Fellas, I have no dog in this fight! In fact I don't even see a fight. There are perfectly good reasons that some boaters like dedicated electronics, others like computer centric solutions. I use both, and am enthusiastic that both are advancing (and, hey, I write for what are called "enthusiast" publications).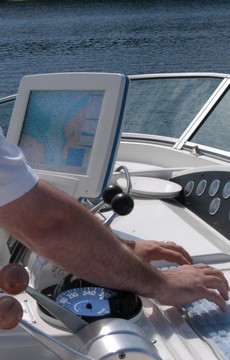 The marine electronics industry is not a big nasty monolith out to do you you harm. It's comprised of tiny to medium size companies, and a lot of generally decent people, competing to make products that make money. If one thought it could do that peddling a generic radar sensor, for instance, there's nothing to stop them from trying. (I wish this would happen too, Don, but don't see anyone to blame). And what is value? Getting a powerful system cheap, even if you have to do a lot of friggin around to make it all work? Getting a proprietary system that works pretty well and is all supported by one company, though expensive? There are many angles on this subject. Don, for instance, is using an expensive SeaView computer monitor (right) that came out a few years ago with much hoopla (so waterproof that it was exhibited in a fish tank). The brand didn't last much longer than a year, and I'm not sure Don can even get his repaired at this point. Was that good value? Unfortunately this sort of thing has happened fairly often with marine computer gear, which has turned some boaters off on that choice. (I'm seeing boaters who used to navigate with laptops switching to plotters, because they've gotten so much better, and in a situation like Don's—a 42' sailboat—they can be mounted and used right at the helm). At any rate, I don't get the anger, but will deal with more of Mike and Don's feedback soon.