Gizmo's air draft sensor & my Panbo 8th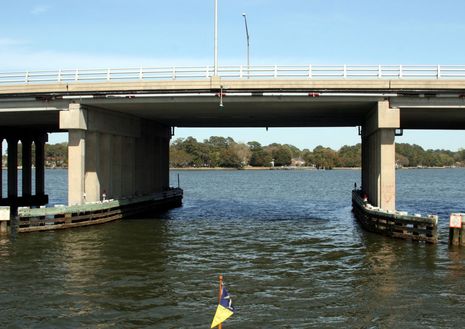 This was Thursday's little challenge. It's what I've starting calling a "trawler bridge": a span high enough to let motor cruisers get at some good anchoring and/or gunkholing, but not so high that they have to share it with pesky sailboats. I kid, of course, but I had spied out a great little spot on Norfolk's Lafayette River (Google Map here) to ride out the frontal passage and it would likely be free because there's only 24-feet under this bridge at high tide. However, I wasn't absolutely sure that Gizmo's mighty antenna farm met that requirement…
I've somehow never gotten an accurate measure of Gizmo's air draft, and apparently I'd developed an exaggerated idea of what it was. That and some "typical man" jibes (fair enough) were the content of a pretty funny conversation I had with a North Carolina bridge keeper who didn't want to open for me. After I nervously made it under — even though a guy working on the bridge waved me back at one point — the keeper estimated Gizmo's height at 24-feet. If that was true I had about 2-feet of low tide extra en route to the sweet anchorage…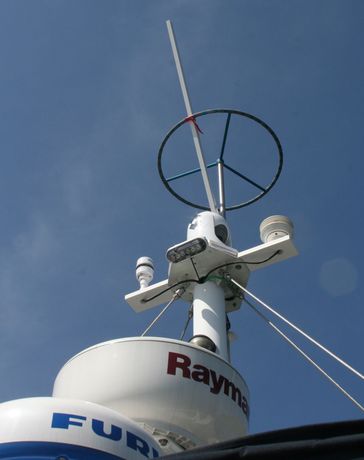 But if it wasn't true, bad things could happen. So I anchored briefly outside the bridge, climbed up the mast and taped a stick higher than the lightning protector and leaning forward. I also folded back the bimini so I could monitor my sensor as I slowly approached the bridge. Heck, the stick didn't even touch, so my mast may be even shorter than I thought (unfortunately, this bridge does not have a handy tide gauge so the calibration is not complete).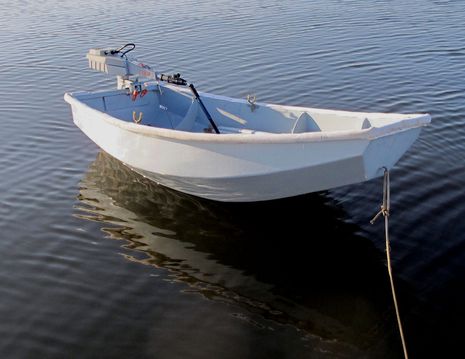 Size issues aside, I became a happy guy snugly anchored alone through the blow. It was also a good workout for the little Bolger-designed Nymph tender and confirmation that that universal-jointed tiller extension (stumbled upon in the Oriental Marine Consignment shop) is indeed the solution to the Torqeedo steering issue I fretted about last fall. Now I can run the Torqeedo from several positions, even standing up, and I might add that it took only about 12% battery life and 12 minutes to make it almost a mile to the dinghy float at O'Sullivan's Wharf restaurant, and the engine started every time. The motor can still develop a noisy battery overload condition at high rpms but that hasn't changed almost since I started long testing it in in early 2011 and I still like it so much that I'm reluctant to send it in for servicing.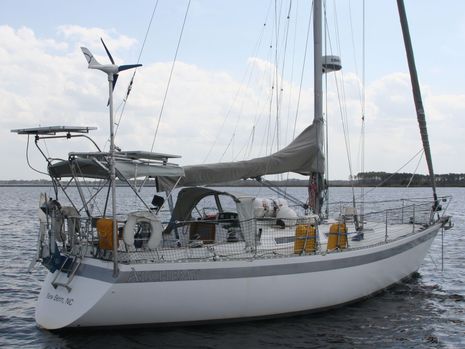 At any rate, despite wind and rain Friday turned out to be great lay day for reminiscing on my eighth year at Panbo. It's been neat meeting readers during the trip, like Chris and Gretchen Witzgall who unfortunately arrived in Belhaven aboard their sharply tricked-out Alchemy (above) just as I was leaving. I did learn, though, that Chris scored that Simrad Broadband Radar in the Panbo Classifieds (they're free, folks, and though not used much, they often work). Hopefully, Gizmo and Alchemy will meet again further up the road and maybe we can learn more about all that gadgetry.
I also got to know the low-key college neighborhood along the Lafayette River a bit and learned about Norfolk history and the wild world of satellite communications over lunch with Jim Rhodes, a true Southern gentleman and scholar of public relations. Jim has many years experience aboard Navy vessels large and small but I'm not sure even he'd know what all the gizmos are on this small but fearsome-looking war boat I passed on the ICW. Anyone?