Humminbird horizon compass, brilliant!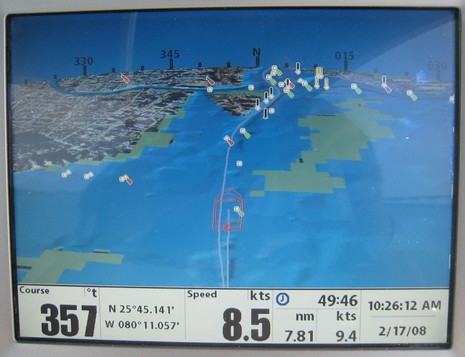 Some day I'll figure out how to use the "tag" function built into this blogging software, and this entry will be one of several easily found by clicking "Smart Interface Ideas". I've never seen a compass rose overlaid on a 3D plotter horizon like this, but it struck me as totally intuitive, very useful, and without a downside. Check out the big image and imagine yourself driving up Biscayne Bay toward the Miami River and the MIBS madness beyond. Notice how 3D gives you buoy and bottom detail near your position plus a good, if less detailed, sense of what's ahead. (In this particular case the bottom contours aren't very emphatic, but if you look at the 2D raster of the same area, you'll see there isn't much depth differentiation around here, and there was probably a tweak we could have done to emphasize it. It's also evident that the wire frame boat icon is a bit large, putting the green lit mark in the galley!)

At any rate, I generally tilt a 3D screen enough to see the horizon because I think it too adds to situational awareness. However, the screen above it is usually wasted space, which is part of why the compass rose is such a winner. For many of us, it also neatly connects high tech 3D back to traditional pre-plotter navigation. I suggest that every plotter/ECS developer with 3D compliment Humminbird by borrowing this idea as soon as possible!
I took the photo above on a Navionics' 46 foot power catamaran that had so many plotters arrayed on the flying bridge (below) that we might have been stopped by Homeland Security. The plotter photographed was one of Humminbird's various 1100 series models which combine plotting with fishfinding or side imaging, or both. Many can display Navionics Gold, Hot Map, and/or Platinum (shown) cartography, and may add Platinum+ soon. I was impressed by how fluid the Platinum 3D is, and hope to test a unit, including side imaging this spring. After all Johnson Outdoors not only seems headed toward bigger boats and salt water with the Humminbird line, but also acquired GeoNav last fall. Navionics, by the way, used this cat to do its own fresh bottom survey of the Bahamas.