i-Blue GPS/logger, wireless & solar too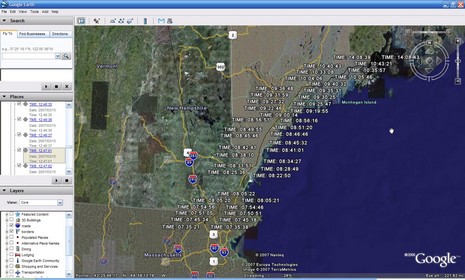 When Captn Jack's lent me an i-Blue 757 GPS last month, they were clever enough to put it in "logging" mode before they sealed the box. Thus, once I sorted out the included software and downloaded the saved log points (30,591 of them!), I was able to see the box's UPS trip from Massachusetts to my house overlaid on Google Earth.
Now that's a damn sensitive receiver that can hold onto GPS satellites inside a box inside a series of brown trucks! And obviously the i-Blue's 1000mAh Lithium battery is pretty long lived even when it's not being trickle charged by its 25mA solar panel. By the way, note the lat/longs shown in the i-Blue's PC utility software below; in Google Earth I was able to drill down to a factory parking lot in northern Taiwan where the unit was probably tested for the first time.
While I like logging for tasks like mapping island trails, and the i-Blue is certainly an easy way to bring home a visual cruising history, I found that it also serves quite well as a Bluetooth GPS sensor to Pocket PC and laptop charting programs. It even has a unique standby feature that worked fine, and is well explained in this thorough Pocket GPS World review. Note that you use a USB cable to charge the i-Blue and also to download logs and set GPS and logging parameters. I didn't check if someone without Bluetooth could use the USB connection as a GPS feed, and the otherwise good manual doesn't say, but I will get another chance as I liked this gizmo so much I'm buying one. I tried an EMTAC Trine Bluetooth GPS that Captn Jack also sells, and while I'd say it's noticeably sturdier than the i-Blue, I'm going for the lower price and logging capability. I do like how Jack's is selecting good, better, best products in several categories like this and WiFi, and recommend downloading the new catalog PDF, which seems to include some gear not yet on its Web site.