Icom MarineCommander, the whole enchilada?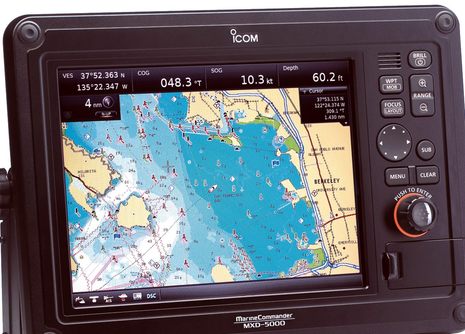 When I wrote about Icom's "New Look" VHF radios after Miami I also mentioned a new and "affordable" black box navigation system that impressed me for its rugged-looking build. Well, let's say hello to Icom MarineCommander. While I think that there are still many details to learn about — online manuals and spec sheets will help — a lot about MarineCommander is becoming clear, and, besides, I obtained some high res images that nicely complement what's on that Icom site…
So click on the photo below for more detail of the MXP-5000 processor that's the heart of MarineCommander. What you'll see is three video outputs, two of which can support independent MXD-5000 12-inch displays like the one seen above including button and knob controls, with the third apparently a repeater of one screen or the other. There are also four video inputs, four Ethernet connections, an NMEA 2000 port, and two other data connections. And I believe the MarineCommander brochure PDF mentions how those lower right power connections can also power the displays…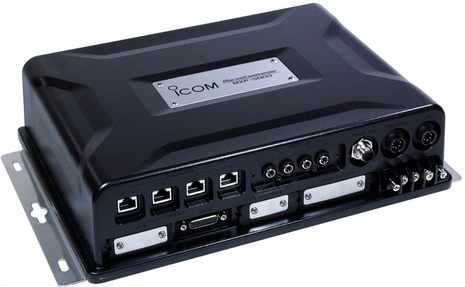 The brochure diagram below shows how some of that connectivity can work. Note how two processors can be networked and share blackbox radar(s) and fishfinder via Ethernet. And no surprise that MarineCommander claims special relationships with Icom AIS and VHF radio products via NMEA 0183…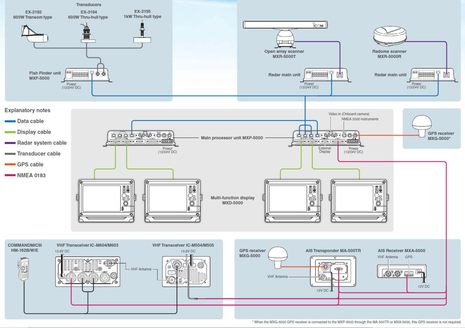 And here's the end result, which looks like some powerful multi-window multifunction goodness to me…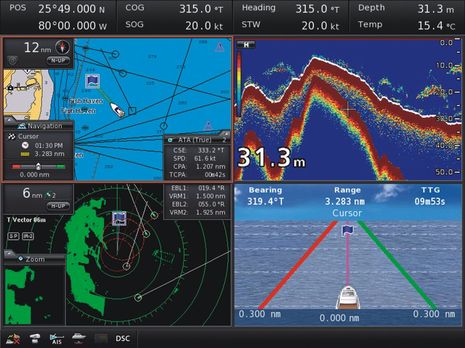 I particularly like the radar zoom window seen better on the full radar screen below. I don't recall seeing it elsewhere and if it's easy to set up it could be quite useful. But it also looks like the Icom interface engineers borrowed lots from other systems — like those compact system icons, the easy-to-read databar, and various optional corner windows — and there's absolutely nothing wrong with that…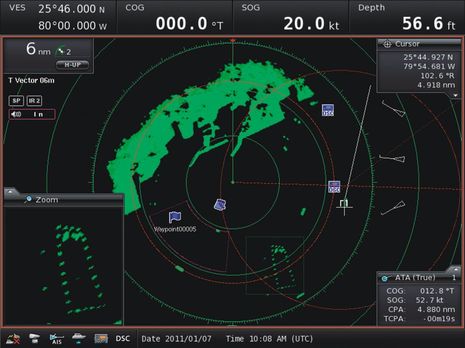 I'm not sure how multi-window screens are created but like the look of this picker. Notice how the use of the rotary knob is illustrated graphically in the bottom bar. I'm sensing that I could figure MarineCommander out pretty quickly…
It's also not clear yet which standard NMEA 2000 messages are understood by Marine Commander, but the screen below certainly looks knowledgeable in terms of engine data fields. So what does it cost? The minimum advertised price (MAP) for MXP-5000 is $3,000 with MXD displays at $1,700 a piece. Besides the demo video at Icom, I found this one on YouTube. What do think so far? Can Icom extend its fine brand name into navigation electronics?