KVH & Iridium, newer & smaller!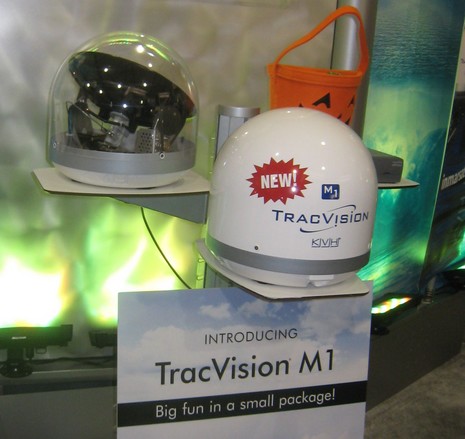 Yup, at not much bigger than a Halloween goody bucket, the new TracVision M1 means upstart Intellian's "world's smallest in-motion marine satellite TV antenna" claim didn't go unchallenged for very long. As to which one really is the smallest, that seems to depend on how you evaluate weight versus size. The M1, for instance, is only 7.5 pounds and can purportedly install on a conventional VHF antenna mount. The M1 also comes with KVH's combo 12v controller/Direct TV receiver, which should make for a compact and easy install, but if you want HD channels, Intellian's i1 let's you use a Dish or ExpressVu receiver that can. The same goes for King Control's new model of the VuQube, the fully stabilized 4000, also introduced at this show. Of course none of these sat TV systems have accumulated much user time, and it's not easy to stay locked on a satellite with a small dish in a bouncing boat.
Also seen at FLIBS was a dummy of the new Iridium 9555 handset. It's got a nice solid hand feel plus a much needed USB data port, and should be quite a desirable upgrade from the aging 9505A handset I tried offshore in 2007. I understand that it will cost about $100 more than 9505 when it comes out next month. I've got to get back to the big show, but there's more FLIBS blogging at Mad Mariner and MegaYacht News (and no doubt other sites?).