KVH V3-IP Broadband & Thuraya SatSleeve

Since leaving Myrtle Beach on April 1, I've spent a fairly ridiculous amount of time messing around with WiFi and cellular Internet connections, and not only is Gizmo quite well equipped in those categories but she's stayed within a mostly first world country (just kidding, North Carolina). Admittedly my thirst for connectivity is high, but I might trade a small body part for a system that simply put me online 24/7/wherever. That's the promise of KVH's latest TracPhone mini-VSAT V3-IP, and 'simply' is the key word. KVH has for a while offered high-speed, 'reasonably' priced satellite Internet with a 17.6-inch high V3 dome antenna that can purportedly work on boats as small as 30-feet. What's new here is the unified antenna controller and modem known as the CommBox (above), which not only looks simple but can even be installed out of sight because as the "ip" in the product name suggests, you can check into this system with most any browser on a PC or tablet connected to the CommBox by Ethernet or WiFi…
A few years ago KVH acquired Virtek Communications AS, a small Norwegian developer which had apparently made great strides at the complex issue of managing multiple satellite and other communications systems on ships. Many of those possibilities are available as add-ons to even the little V3-IP — like using an Iridium Pilot system (tested on Panbo as OpenPort) for backup and global coverage (take that, Inmarsat!) or getting hooked in to your company's Virtual Private Network (VPN)…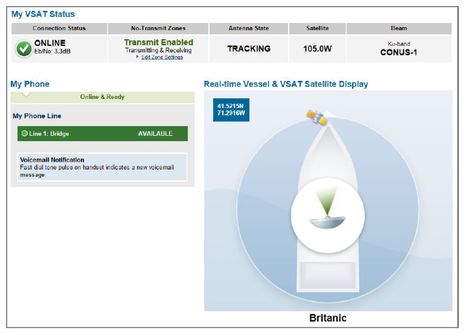 But what looked especially attractive to me is that main CommBox control screen above, which you can pull up on your iPad or the yacht's computer. An iPad browser is how I normally manage Gizmo's Rogue Wave Pro high power WiFi system (detailed here), mainly because it's quick and easy and one of the first things I like to do when I arrive somewhere is to see if there's decent WiFi available. Unfortunately, as good as the Rogue is — seeing some 50 hotspots in the residential creek I'm anchored in this morning — there often isn't an open one, also like this morning. Now it happens that there's good Verizon LTE coverage in this creek, so I'm watching live video of the America's Cup in Naples while I write, but that's not been common, even with the help of the Wilson cell amp.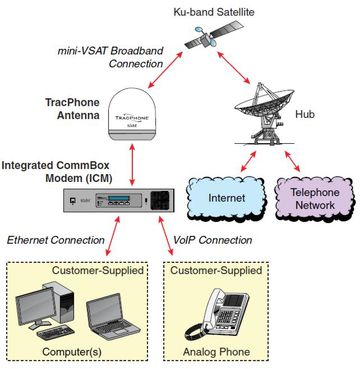 At any rate, I certainly get why I see so many KVH TracPhone and TracVision antennas on higher-end boats. The V3-IP is not inexpensive at $16,995 for the hardware package with a minimum annual service contract of $50/month for just 50 megabytes. But, then again, you can change service plans freely and KVH even has tips on how to minmize costs, all found among its remarkably thorough and well-written customer documents. How much is simple connectivity worth to you?
And where will it all go? A really interesting recent development is the Thuraya SatSleeve, which is a sort of iPhone case that along with an app switches the phone's cellular service to Thuraya's satellite system. Thuraya doesn't cover the Americas and data is not yet enabled, but the attraction of using your own phone with its contacts, weather apps, whatever is obvious. Will Iridium or Globalstar do something like this?