Live marine weather, Sirius vs XM, the prolog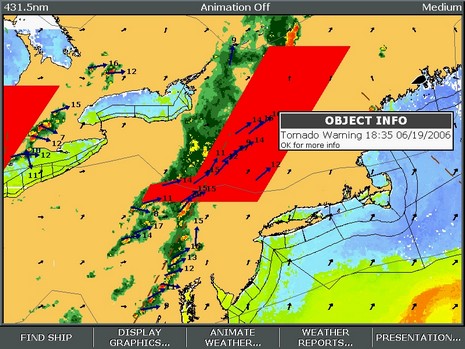 I looked forward to the battle of XM and Sirius marine weather services, and now it's here. Right now, down in the shop, I've got Sirius Marine Weather running on the E-120 and XM Marine Weather running on the Garmin 3210 (and both are ready to go aboard Ralph, which I launched yesterday, yeee-ha). That screen shot above is Sirius on the E, bigger here. You'll notice Nexrad precip radar, storm cell vectors, water temp, wind arrows, outlines for NOAA text forecasts, and of course the red Tornado Warning area. There's a lot to these services, and to the interfaces needed to get the most from them. I'm wondering if any of you have experience with either service, or would like to see particular data screens, or just have opinions about subscription weather? Here's a good page to see what XM beams down, and here's a similar list for Sirius (click on the FAQ). Don't be shy!
PS 7/13: An unusual aspect to the Sirius screenshot is that we almost never get Tornados in this part of the world, and it was nice to have a plotter beep me about the possibility. On the other hand, no tornados actually materialized (no fault of Sirius). Below, bigger here, is a Garmin XM image from last evening. That rain definitely did come my way.