Lowrance HDS Gen2 TOUCH, StructureScan included!
Today Lowrance introduced the HDS Gen2 Touch series — new Lowrance web pages here — and I feel especially prepared to cover the news because I got to touch one myself a few weeks ago, and also because a friend of Panbo sent me a copy of the detailed PDF that went out to dealers. The page above, for instance, shows how the new 7-, 9-, and 12-inch Touches compare to the existing HDS Gen2 models they can happily co-exist with. Thus users who are shy about touch — particularly understandable on bouncy boats — can pair that interface with a full button/cursor control model, a good idea that up until now only Garmin offered…
Of course that HDS Gen2 family image also indicates how much screen Lowrance managed to squeeze into these cases, even with a rudimentary set of auxiliary buttons. In fact, I think they invented a new term for this competitive trend — the "glass to plastic ratio"– and I like it!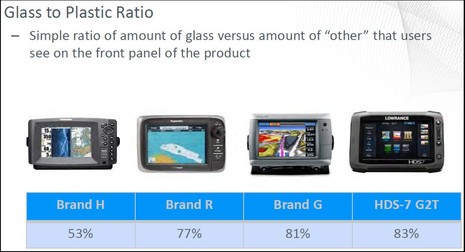 Now for something unique: All three sizes of the Touch fishfinder models have both Broadband Sonar and StructureScan built in, as seen in the "suggested" system below. Also note that there are thru-hull models of both those transducers and that SS is great for gunkholing too. And while I haven't done the math yet, a retail price of $3,279 for a HDS-12 Touch with four sonar channels (and a very bright and bonded 1280×800 pixel LED screen) seems pretty sweet…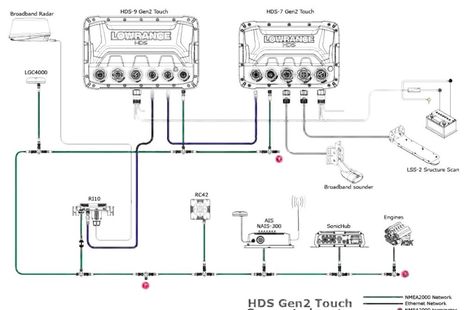 Something else unique is the Touch's touch interface, which may be a little surprising given that these MFDs are close relatives of the Simrad NSS series introduced early last year. The Lowrance software developers used the same underlying operating system but were obviously given a free hand, and I like what I've seen so far. So does Lenny…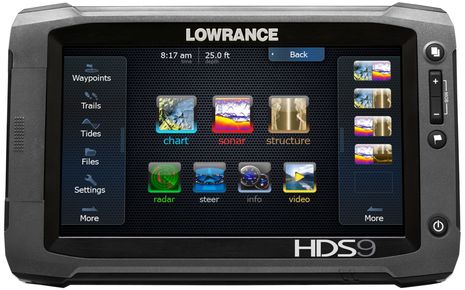 You can get a good feel for the new interface in this "Hairtook" YouTube video (and learn some French marine electronics terms to boot) and in this YouTube hosted by product manager John Scott. Note how fast the HDS Touch is! There's much more interesting detail to talk about, but I just walked, trained, and planed from boat to IBEX today (what should I check out when I'm done with my presentations?), and so it's time for you all to check out these HDS Touch links and report back.