Mandated AIS, an aid to pirates?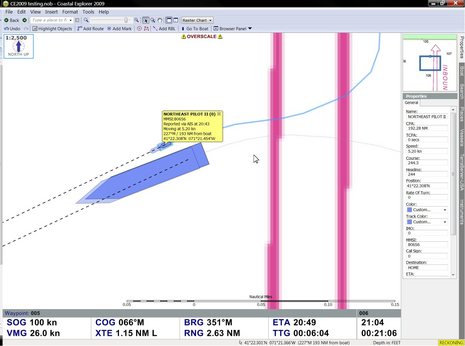 In the screen above I was testing Coastal Explorer 2009 with AIS target data coming in from a shore receiver network via an IP feed. It was neat to watch the pilot boat rendezvous with a ship inbound to Narragansett Bay, and it showed off CE's ability, like NavSim's, to dead reckon targets (note how it's using COG, not heading), as well as track them and pop up useful info with a mouse click (or finger tap). But good data and good data presentation like this could be used for very bad purposes. Despite all the discussion of Somali pirates last week, I didn't hear anything about whether or not they use AIS to rendezvous with their targets…but I'm not surprised that they do, and that the crews thus exposed are pretty pissed off about it!
A Panbo reader who went to Mass Maritime, as did Captain Richard Phillips, tells me that there's quite a piracy discussion happening on the its alumni message boards, including these words from a retired U.S. Naval Reserve Commander now sailing as Master Mariner in the Merchant Marine (boldface mine):
Pirates aren't new, just their tactics and equipment are. They have better boats, better guns and much more sophisticated electronic guidance systems. Perhaps the worst piece of equipment the USCG/IMO has mandated ships to not only carry but remain in operational service is AIS.
In spite of all the ISPS Security measures, the USCG mandates that we broadcast all the information about our ships to the whole world in real time. AIS broadcasts our position (accurate to GPS standards), course, speed, destination and number of crew aboard, as well as our flag. Its like a "menu" for pirates and terrorists (they're both the same in my view) to plan attacks on us when and where we are most vulnerable.

It's ironic that you can be steaming along in the middle of the ocean, run across a US Navy ship all armed with guns, SEALS, and helicopters, and they are in full EMCOM (Electronic Emission and Communications Control) and we are out there, slow, under manned, and unarmed being required to broadcast all the vital statistics of our ship to any pirate who can buy them on line from the WEST Marine catalog, although they usually don't have to buy them. They just take them off the ships they hijack.
I hugely appreciate the safety value of AIS, but I certainly understand this Captain's frustration, and am a little surprised that the IMO has not already made it legal for mandated AIS vessels to go silent in the waters around Somalia. If you were running a ship out there, might you consider pulling the GPS plug out of your Class A transponder, even it if you're not supposed to? But I was pleased that this Captain went on to say that the ultimate solution to the pirate problem is to eliminate their safe bases ashore (as opposed to hobbling a good collision avoidance technology).