Maretron N2KView: prices slashed, architecture improved, and BNWAS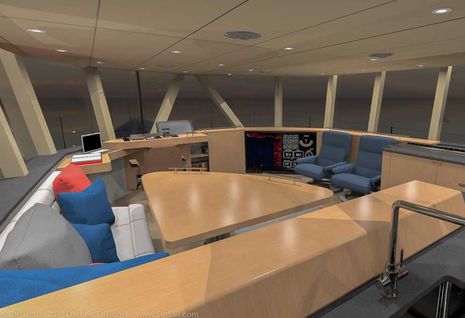 I find Steve Dashew's latest FPB 78 long-range powerboat design so intriguing that I won't link to it until the end of this entry for fear of losing you!  The relevant detail in the rendering above is Steve's plan to occasionally use that giant 65-inch 4K resolution TV monitor so he can still see his radar and Maretron N2KView monitoring info as he moves about the vessel's giant main cabin while underway. I got to spend time with the Dashews on their original FPB Windhorse, and it's one heck of an equipment endorsement to be chosen for the next one. I also know that Steve's expert evaluation of Maretron's hardware and software systems came before the major and excellent-sounding N2KView product changes I'm about to outline…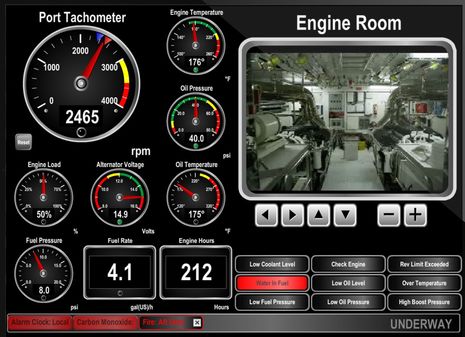 On January 1st Maretron N2KView changed from modularized PC software that could cost nearly $3,000 for the works —  monitoring plus device control, fuel management, sophisticated alerting and video integration — to a $995 package with all modules included, plus a new BNWAS feature (Bridge Navigation Watch Alarm System). Before Jan. 1st, running the N2KView Mobile app on or off your boat required another license, if you wanted the PC version running at the same time. Now it's free. And that, as they say, is not all…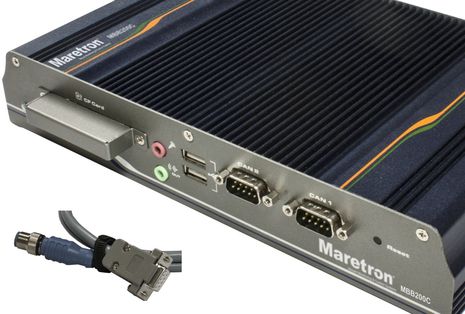 Maretron also replaced all three of its dedicated N2KView PCs with hardware that's more reliable and arguably less expensive. Yes, the MBB200C black box is pricier than its predecessor, but it includes the entire N2KView software suite, and it can work with two independent or redundant NMEA 2000 networks through two CAN ports (and adaptor cables). The major change, though, is that it works directly with N2k at all…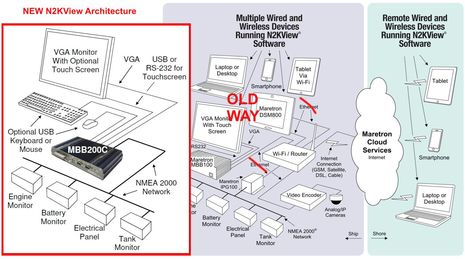 The original N2KView architecture — seen on the right side of the diagram collage above — was to have the PCs connected to a boat's NMEA 2000 network via Maretron's IPG100 Ethernet/IP gateway and the vessel's router/switch. That has caused problems that didn't have anything to do with N2KView or all the N2K devices it can monitor and control. Apparently, it's gotten to the point where the first question asked of a customer calling in with an N2KView PC that suddenly doesn't work is something like, "Have you or anyone else added or changed an Ethernet system that's attached to your boat's router?"
   The new N2KView system architecture keeps the dedicated PCs inside the N2K network(s), immune to DNS problems and other issues that can mess up an Ethernet network…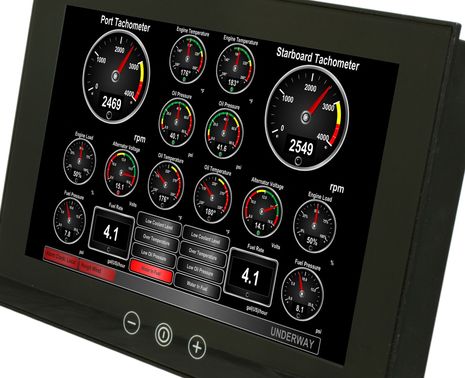 So, redesigned hardware like the new TSM800C and TSM1330C touchscreen N2KView displays are more like dedicated marine MFDs than ever. Yes, there's Windows running inside and your monitoring can still connect to the Internet through an IPG100 and router, but it's no longer dependent on that connection to operate properly.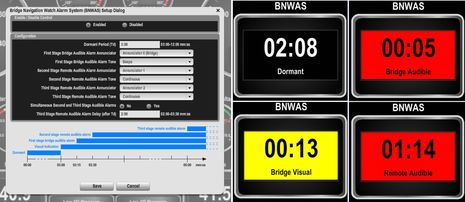 The screens above describe N2KView's new Bridge Navigation Watch Alarm System (BNWAS) feature. It's something like an elaborate snooze alarm that watch standers can't turn off and that escalates to more "buzzers" the longer it's left unattended. But, in fact, Maretron implemented it to commercial marine specs and boats that already have N2KView and one or more ALM100 NMEA 2000 network "buzzers" can now have BNWAS with just a free software update.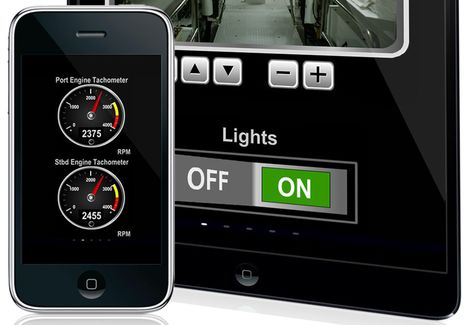 Unfortunately, BNWAS is not designed to work with N2KView Mobile, but it seems that any boat with a NMEA 2000 network and an IPG100 can enjoy many other benefits of N2KView on their Android or Apple mobile screens without further expense. Note that the integrated video also requires a dedicated N2KView PC (which have Ethernet ports just for IP cameras), but I think that "free" N2KView is great news for boats around the size of Gizmo (and owners who are cheapskates like myself ;-).
   I'm already quite pleased with lower level Maretron monitoring and control devices that I've installed, like engine block temperature monitoring and circuit switching. N2KView running on phones or tablets won't be essential but might be some delicious icing on the cake. Now, how about a look at how Steve Dashew used Maretron gear on Windhorse and his incredible visualizations of the FPB 78 Dream Machine.