Maretron's N2KBuilder, better than sliced bread?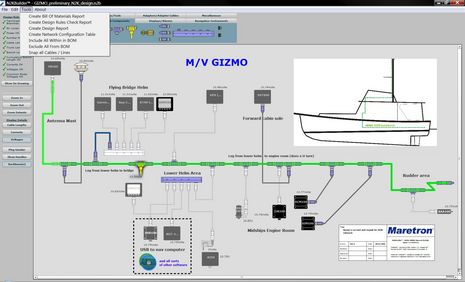 Actually I like to slice bread myself these days, but, man-o-man, Maretron's latest gift to the world of NMEA 2000 is one brilliant invention. N2KBuilder — which is free, and downloadable right now — would be handy if it just let you easily mock up a proposed network. But it does much, much more than that. As you drag and drop cables, connectors, and devices, the software keeps an eye on total cable lengths, amperage loads, and the resulting voltage drops, and alarms you if you're over the limits. It also keeps track of backbone integrity and plug genders, and all the while builds a system database from which it can produce various valuable reports, and even a bill of materials (BOM)…

Not surprisingly, the BOM is Maretron specific, but you certainly can add non-Maretron devices to an N2KBuilder network design. You just need to input their LEN (or amperage) values so the program can do the complex voltage drop calculations. Maretron devices already know their own LENs, naturally, and in some cases like the Switch Monitor seen below, the property dialog covers all sorts of details that will flow to the BOM, the actual physical install, and finally the system set up.
My guess is that N2KBuilder will rapidly become indispensable to installers and do-it-yourselvers who are involved with anything more than rudimentary NMEA 2000 networks. I was able to create the Gizmo file seen above in just an hour or two, and it's immensely better than the Visio drawing I once started (but procrastinated on, thank goodness). It represents gear that's already on the boat (and hence colored white or light gray to indicate that I've excluded it from the BOM) and things I hope to add, including a MID-size backbone (N2K power issues discussed here). I was able to set the input voltage at 11.5 — worst possible case, I think — and see that the design still delivered well over the minimum 9v to the furthest reaches of the system. It would be nice if a simple command could switch all the Mid cables to Micro size for a comparative analysis, and maybe that's a feature Maretron will add. In fact, I dare say that several Panbots (like "dual backbone" Dan) will have suggestions for N2KBuilder improvements, but further guess that they'll come with lots of 'wows' and 'thanks' attached.