Marine Communications Leader KVH Introduces LTE System for Fast, Affordable Internet Access Offshore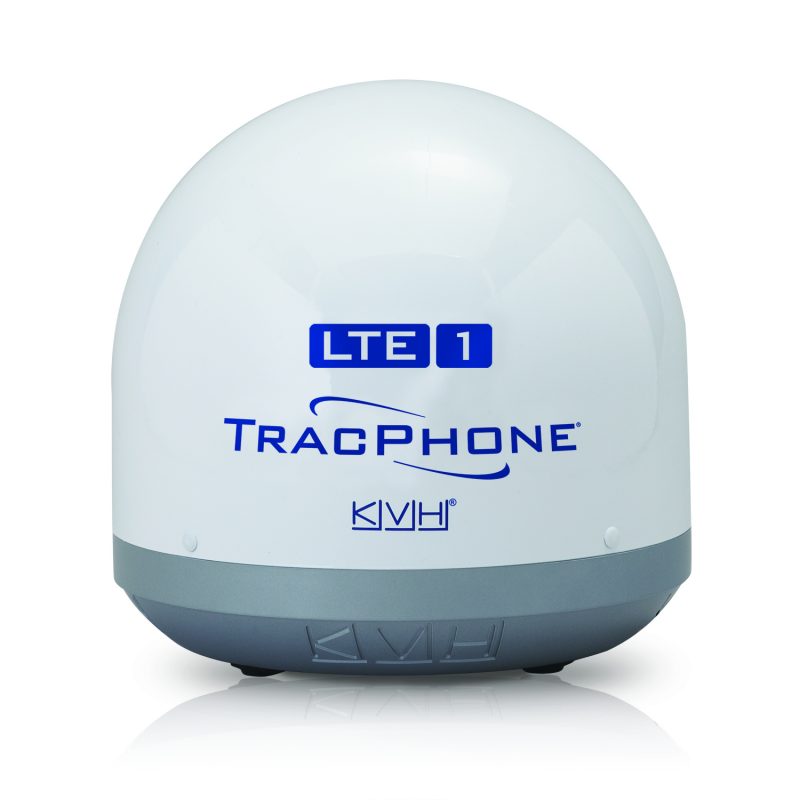 Boaters can enjoy significantly higher data speeds and greater Internet range offshore than cellphones alone provide, in an all-in-one solution
MIDDLETOWN, RI – June 20, 2018 – KVH Industries, Inc., a leading global satellite communications provider, is introducing the TracPhone LTE-1 marine communications system designed to provide Internet access in U.S. waters more than 20 miles offshore, with data download speeds up to 100 Mbps. The system, which utilizes LTE Advanced (LTE-A) cellular network technology, is compact and affordable enough for a vast array of small and mid-size recreational boats—including sailboats, center consoles, fishing boats, and more—that until now have had few options besides the boater's own cellphone for accessing the Internet while on the water. With the TracPhone LTE-1, boaters can access the Internet at twice the range and up to 10 times the data speed of typical cellphone performance offshore, with connectivity for multiple onboard devices.
"We used the TracPhone LTE-1 on our 36 Invincible, Gaff Reflexes, for a saltwater fishing tournament, and we were far enough offshore to where we typically lose signal, but with the LTE-1 we never lost service," says Kirk Beattie, owner of Preferred Marine Sales Group, in Pompano Beach, FL. "We were streaming music clearer than ever, and Wi-Fi-based telephone and email applications came through with no problem. KVH's TracPhone LTE-1 is truly impressive equipment: The size is perfect, it can fit on any center console, and you can't beat the performance and clarity."
The TracPhone LTE-1 is designed to enable various applications for mobile connectivity, such as streaming HD videos and music; Wi-Fi-based voice, messaging, collaboration, and video applications; browsing the Internet; and posting on social media—all while offshore.
"We believe the TracPhone LTE-1 will be a game changer for boaters who want to stay connected with HD streaming, video chatting, and more," says Martin Kits van Heyningen, KVH's chief executive officer. "We've taken the same end-to-end approach we use with our satellite-based products to offer the best experience for our customers by providing everything they need—from hardware to airtime—to enjoy fast Internet access on the boat."
A complete system, the TracPhone LTE-1 includes a high-gain dual antenna array, modem, GPS, and Wi-Fi router inside a 34 cm (13 in) diameter dome. A single cable connects the antenna to a belowdecks Power-over-Ethernet (PoE) injector to provide power to the system. The PoE can also be used to create a local area network (LAN) to facilitate faster data speeds; without the LAN, users can rely solely on the secure Wi-Fi router built into the dome to provide easy, convenient connectivity. The TracPhone LTE-1 uses cellular technology from two of the leading LTE carriers in the U.S., automatically switching between them to ensure the most seamless coverage available.
The TracPhone LTE-1 system is priced at $1,699 MSRP, with a flexible, month-to-month airtime plan providing 20 GB of data for $199 per month with no annual contract; the cost for additional data is $9.99 per gigabyte. The system is designed for use in U.S. waters only (including Hawaii and Alaska), and KVH is exploring expanding the product for use beyond U.S. waters in the future.
For more information: Please visit kvh.com/LTE.