KVH enters the cellular Internet market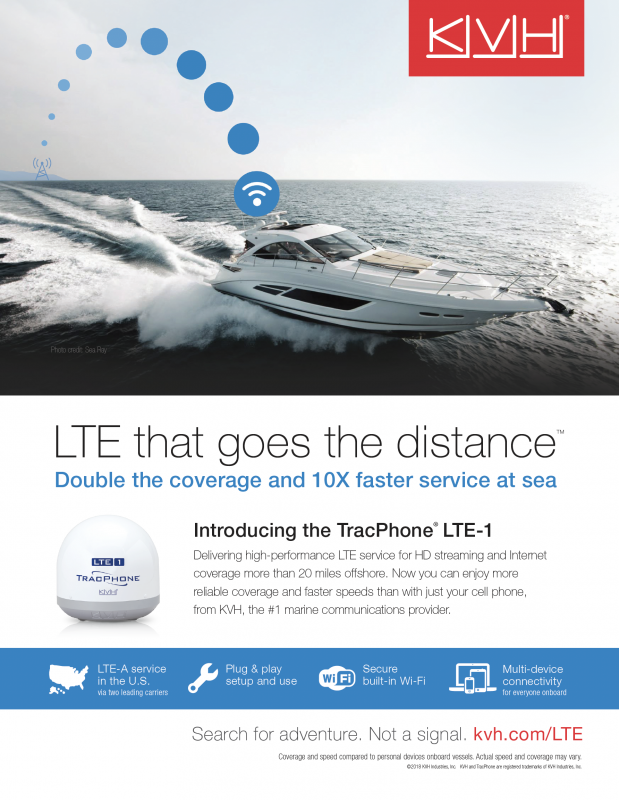 KVH announced they've entered the cellular internet market with the TracPhone LTE-1.  Their marketing materials say it can deliver "Double the coverage and 10x faster speed at sea."  KVH is providing the hardware and the cellular service and promises to deliver an all-in-one, end-to-end, no hassle, simple service.  If this announcement weren't from KVH and it didn't have some of the pretty bold claims KVH makes it might look like just a ho-hum, me too announcement.  But, KVH says they can do more faster and easier than the existing products so, I for one, am looking forward to seeing if this, generally pretty conservative, engineer driven company, can back them up.

The system
The KVH TracPhone LTE-1 is an all-in-one unit providing LTE (AKA Cellular or 4g) connectivity to your boat.  The dome –which is the same one used for KVH's TV-1–  is designed to sit on a hardtop, radar arch, or mast  and connect to the devices in the boat via a wired Ethernet cable or WiFi.  The system contains two LTE antennas in a 2×2 MIMO array, an LTE-A radio, wireless router and GPS receiver.  It can be mounted to a flat surface with four vibration isolated mounts or using a 1″ 14 VHF antenna style mount.  Power is delivered to the LTE-1 via POE  and input power can range from 9-36 VDC.  The POE module also has a wired Ethernet connection for connecting the LTE-1 to your existing boat network.
KVH delivers on their promises in part by leveraging an LTE-Advanced (LTE-A)  feature called carrier aggregation which allows the LTE radio to connect to multiple LTE bands (bands are  portions of radio frequency spectrum) and aggregate the bandwidth from those bands to deliver greater throughput.  The LTE-1 is configured with two carriers with one designated as the primary.  If the primary carrier becomes unavailable the secondary carrier takes over.  6/25/18 – A note of clarification: Though the name can be confusing carrier aggregation occurs across multiple frequencies of a single cellular network.  So, although the LTE-1 works with two carriers it can only use one at a time.
The WiFi radio in the system is a 2.4ghz 802.11n/g radio which maxes out at 72 Mbps.  Because the LTE-1's LTE-A radio is capable of higher speeds than the WiFi radio KVH recommends using a wired connection to an existing boat network or access point.
LTE-1s are managed via an Android and iOS app or via a web interface.  The systems have an MSRP of $1,699.   KVH calls this an end-to-end offering because they supply the hardware and the cellular service.  They're currently offering one rate plan with 20gb of bandwidth for $200 per month.  Additional data is available for $9.99 per GB and if you'd like to suspend service you can do that for $9.99 per month.  KVH is very clear there's no throttling of the bandwidth.  You're not able to use your own SIM card or existing cellular plan.  KVH is taking pre-orders now but hasn't said when devices will start shipping.
The promise
Although this is their first cellular product, KVH brings many years of experience deploying complex systems to deliver high reliability connectivity to boats all over the globe.    KVH has a very strong dealer / installer network, deep experience negotiating complex services with bandwidth providers and very highly rated customer service.  Now, they're bringing that experience to the cellular internet space.
KVH says they can deliver up to 100 Mbps download and 50 Mbps upload speed up to 20 miles offshore.  It looks like the foundation for these claims is latest generation technology, carefully engineered RF systems and unthrottled bandwidth provided by multiple carriers.  Incidentally, thus far KVH has declined to identify those carriers.
Customers with mini-VSAT systems can also use the LTE-1 to provide much less expensive connectivity when the boat is within range of cellular networks.  KVH says that a KVH CommBox software bundle and setup by KVH Application Engineering is required.
How's it compare?
Panbo has previously looked at all-in-one systems from Glomex, Shakespeare, and Winegard.  Each of these systems has a little bit different spin on the basic concept.  Let's get one thing out of the way first, the LTE-1 doesn't currently have the ability to act as a WiFi bridge.   Each of the other three systems also contain WiFi radios designed to allow connecting to shore based WiFi and share the connection within the boat.
Glomex and Shakespeare ship without a SIM card and expect you will get your own service plan.  Winegard follows a similar model to KVH but only supports one carrier so they don't have any of the carrier aggregation magic.  But, with a $479.00 MSRP and service options ranging from from $20.00 (1 GB) to $150 (20 GB), Winegard does come in at a lower price point.  Shakespeare with a $899 MSRP and Glomex with a $995 MSRP are also less expensive, though you'll need to procure your own cellular service.
In the LTE-1 FAQ  KVH says they're hoping to add Caribbean access to their service offerings.  I believe the radio in the LTE-1 is also capable of service in many other markets so we'll have to watch and see if the coverage footprint expands further.
Ben Ellison has a prototype unit installed on Gizmo, so, we will hear from him about KVH's ability to back up their talk once he's had a chance to adequately test the system.  I have a Winegard Connect and Shakespeare WebWatch on Have Another Day so we can compare notes.