Winegard Connect marine WiFi and cell internet connection, simple and functional
I first mentioned my "installation" of a Winegard Connect because I was exercised about the cabling and mounting scheme Winegard employs. But the company deserves high marks for their response to my concerns, as they quickly had a proposed solution (explained below).  While the Connect all-in-one WiFi and cellular get-online system — with the cell service included — is Winegard's first entry into the marine internet market, they've been at it in the RV world for quite some time and the rock-solid RF performance is pretty impressive even if the interface seemed rather bare-bones to me.
The $479 Winegard ConnecT 4G1xM is a WiFi bridge, 4G/LTE modem, and router in a single enclosure.  It provides the option to connect either via cellular bandwidth purchased directly from Winegard or via a land-based WiFi network.  If you have an existing boat network the Connect can be connected via Ethernet to your network or you can use the WiFi in client devices like your laptop or tablet direct to the Connect.

Winegard offers two basic types of plans, U.S. and Canada or U.S. only.  The U.S. only plan is available with a 10gb bucket of data for $65.   I quickly convert any plan to cost per gigabyte and at $6.50 per gig this is decent value.  The 1, 3, 10, and 20gb plans for $20, $35, $80, and $150 add service in Canada and get as cheap as $7.50 per gigabyte.  The multiple options and cost per gigabyte compare favorably to what KVH is offering with their LTE-1 and the single plan of $200 for 20 GB.
The Connect 4G1xM has two WiFi radios, one for connecting to shore-based WiFi and one for client devices on the boat to connect to the unit.  Both of these radios are single band 2.4ghz radios.   As has been talked about a lot recently, the 2.4ghz band presents some challenges in RF dense areas.  So, while the 2.4ghz band comes with greater range than 5ghz, I'm still a little sad to see 5ghz omitted here.
When Ben Ellison and I sat down with Winegard's leadership at the 2018 Miami Boat Show they stressed their roots.  Winegard is based in Burlington, Iowa, and they produce almost everything in-house with an impressive array of capabilities from software engineering to an onsite print-shop.
I covered the process of connecting to a WiFi network on the Connect in my article comparing the interfaces of several WiFi systems, so I'll focus a little more on the LTE aspects in this article.
Installation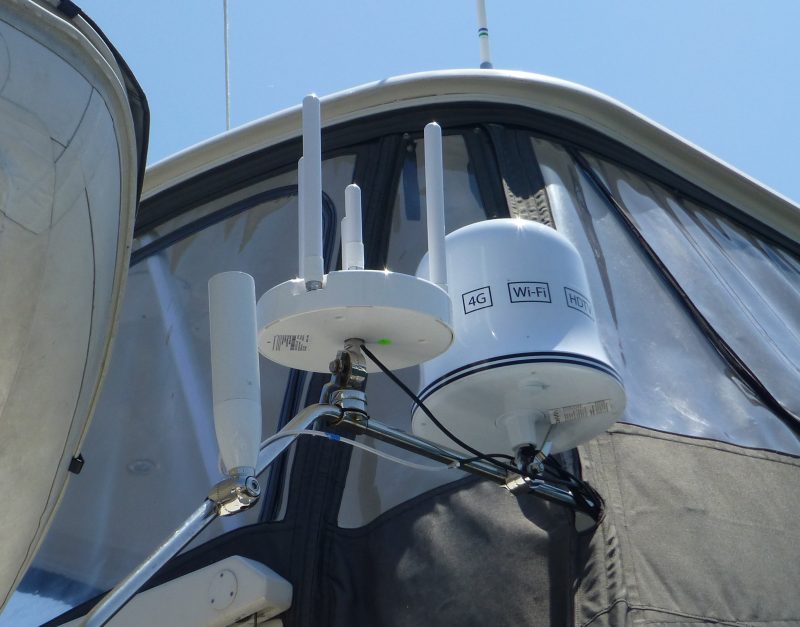 The Connect can be mounted either on a standard 1″ 14 marine antenna mount, as can be seen in the photo on Have Another Day, or with an included deck mount adapter that threads into the 1″ 14 hole on the bottom of the unit.  The cat5 cable that carries power to the unit and allows connecting to the boat network comes through the hole so you will need to find a mount with a cable slot cutout (like the Shakespeare 4188-SL I'm using) or with a hole large enough to pass the RJ-45 connector through.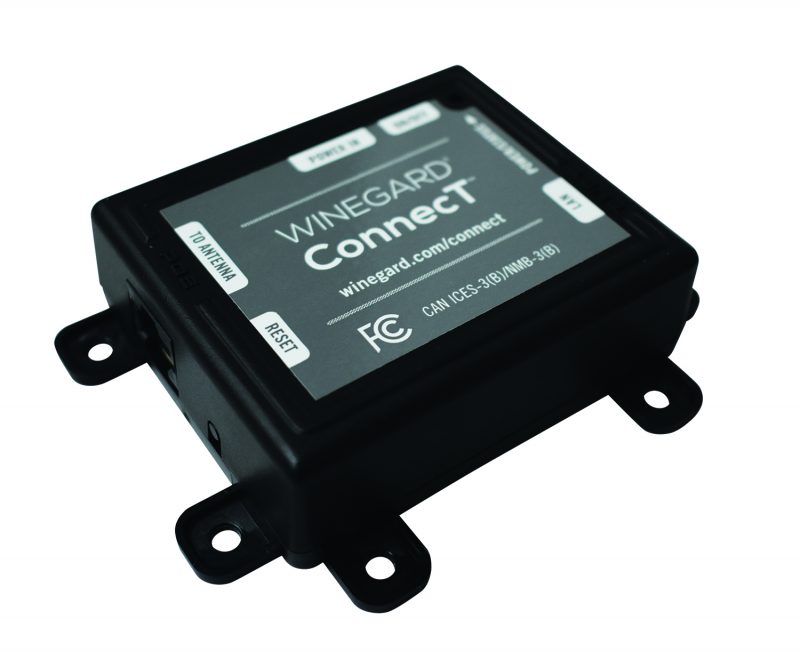 A power over Ethernet (POE) injector is included to power the unit and I was happy to see that it's a 12v model which makes installation easier for most boaters.  A cat5 cable runs from the POE injector to the cable coming out of the bottom of the Connect.  This one connection is all that is needed between the unit and the POE injector.  If you're going to use WiFi between your device and the Connect, you're done with the installation.  But If you're using a wired connection to the boat's network — known as a local area network or LAN — or straight to a computer below, you will plug its cable into the LAN port on the other side of the POE injector.
The user interface
The Connect's user interface stresses simplicity with minimal bells and whistles. For instance, the change from 4G to WiFi is done manually to avoid any usage or billing surprises.  Although the simple user interface worked well for me, overall it feels a little clumsy.  For instance, there's no top or side navigation function in the interface; instead, all pages are selected by scrolling to the bottom of the screen and pulling down a menu to select your desired page.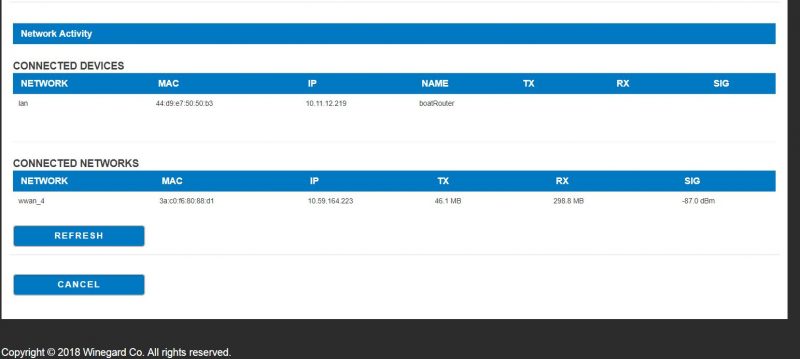 Some diagnostic information is available as can be seen above.  This includes a bit of information about the client devices connected to the Connect and the WAN (wide area network or internet) connection.  There's not in-depth diagnostic information exposed to the end user that a power user might like.  I did also find myself wishing that when the unit was on 4G/LTE it displayed data usage more prominently.
Performance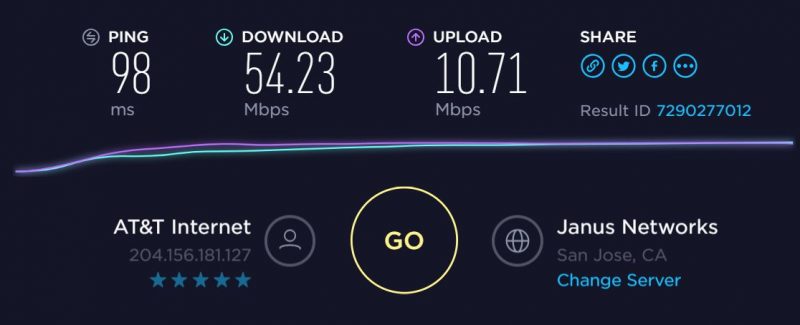 I've had the Connect on Have Another Day since spring launch and our summer cruise up Lake Michigan and into the North Channel of Lake Huron in Canada included spots with minimal cell coverage.  I also had several other marine internet devices and my trusty NetGear LB1120, but every time we found ourselves in borderline cellular service the Connect has been the last device to lose connectivity.
For example, we spent a night in Baie Fine, which is one of the few fjords in North America and a well known cellular dead spot.  Indeed, as we pulled into the fjord we watched our phones and tablets go from full coverage to no-signal.  After dropping the anchor I fired up a browser and consulted the user interface on the Connect.  Though there wasn't a ton, there was enough service to get iMessages out to family and a few emails in to maintain contact with the outside world.  Notably, the Connect was the only device with any service that evening, a fact that proved especially helpful when retrieving weather information about a straight-line squall headed directly over us.
I have several other data SIMs on the boat, incidentally all ultimately on AT&T's network.  Two are part of my voice plan direct with AT&T and one came from a reseller who provides (sort of) unlimited bandwidth, and sometimes during our Canadian stay I had difficulty getting any of them to work.  I'd find myself swapping the cards between the Shakespeare WebWatch, Wave WiFi MBR-550, NetGear LB1120, NetGear NightHawk MR1100 and iPads hoping for activation, and when they did, the performance varied widely and apparently regardless of service availability; sometimes I'd see 8-10 Mbps of throughput while other times I'd struggle to get 1 Mpbs.   I don't believe this was the fault of the modems or antennas, but rather the vagueries of international data roaming.
By contrast, the Winegard just worked.  The only variations I saw in speed seemed to correlate to cellular service range, and as I mentioned above that was typically stronger on the Connect than other devices.  As I mentioned in my WiFi device comparison article, the Connect also had very strong WiFi RF performance.  It consistently pulled in the most networks and seemed to cope better with borderline signal strength.
Connector challenges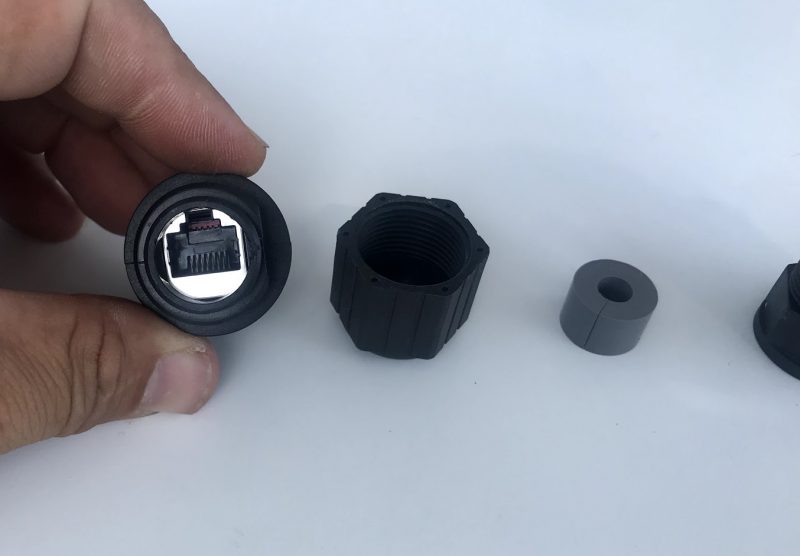 I was impressed with Winegard's response to my concerns about the RJ-45 connectors exposed to the weather, which was the quick delivery of an Amphenol waterproof RJ45/Cat6 cable coupler (like this one at Amazon).  That coupler, pictured above, does a very nice job of sealing off the cable ends from any weather.  At the same time, Winegard let me know they are considering other options to better weather seal that vulnerable connector.  The Connect is a marinized version of a product designed for the RV world and I think the issues I saw are the result of a use differing from the original design.
Final thoughts
Overall, the Connect is a slightly odd looking but very effective product.  The user interface isn't sexy and there aren't a ton of bells of and whistles.  However, the Connect just works.  The unit was reliable, the RF performance was very strong and Winegard makes getting 4G/LTE internet service very easy.  If you intend to use large quantities of bandwidth or need more advanced features there may be a better fit, but for a reliable simple system the Connect is easy to recommend.