A (long) note on Ethernet connector weather protection, or lack of it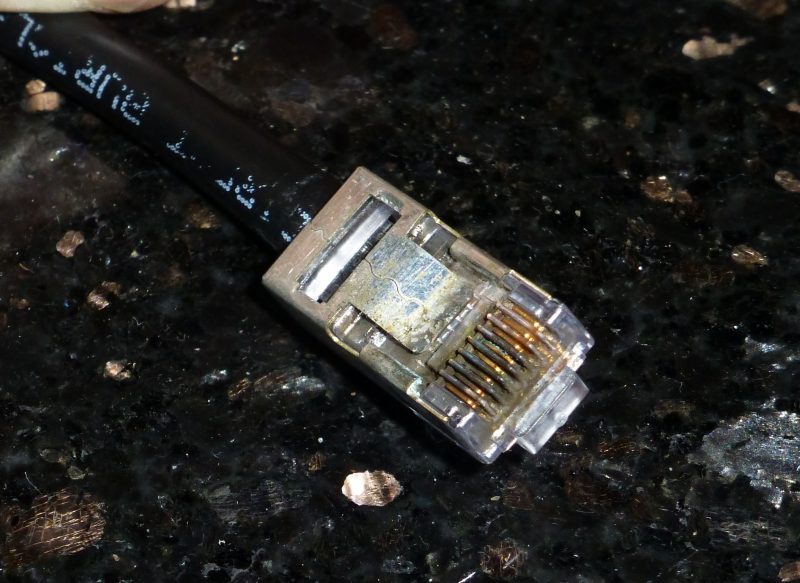 I'm noticing a trend and I don't like it.  You see that nice, metal wrapped RJ-45 connector in the picture?  It's junk now, corroded and unusable.  It's sitting on the counter in my galley clipped off the Winegard Connect 4G1xM I'm starting to test.  I believe this is because of the cabling approach Winegard has used on this otherwise very well designed piece of hardware and Winegard isn't alone.
As promised in my recent marine internet article, I'm getting started testing WiFi and 4g internet connectivity devices.  So far today I've spent about an hour dealing with corroded connectors and devices with cabling arrangements that don't work with my 1″ 14 antenna mounts.  It seems the recent devices I've received are using a different approach than the well-protected connectors of Ubiquiti Bullet based hardware.
Both the Shakespeare WebWatch and Winegard Connect have fixed RJ-45 ends, and Shakespeare adds RG-59 and a 12v power lead,  coming out of the center of their 1″ 14 female threads.  That decision leads to a couple of potential issues.  Firstly, you have to fit the larger ends of those cables, not just the cables, through an antenna base.
The second issue is different for each product.  Shakespeare gives you a nice long cable, but this means you now have to feed that nice long cable through your boat and to the interior connection point.  On my boat that would mean going through the hardtop and down the port-side hardtop to a raceway that leads to the salon.  Those cable paths are all quite crowded and there's no chance of feeding a cable with a blocky connector on the end.  So, I cut it right off and fed it.  That's not a problem for me, I always have termination equipment for RJ-45 (and a lot of other cable types) on board.  I've been told I'm not normal many times in my life and I suspect this is more proof.  I don't think most people keep these tools around.
Winegard solves the problem of feeding that long cable through by giving you a short Cat-5e pigtail out the bottom of the Connect and includes a longer cable and RJ-45 coupler.  The trouble with this approach, and you can see the proof above, is that now you either have an exposed connection or the challenge of trying to get that short pigtail through the exterior of the boat and the connection made somewhere you can get your hands in within about 18″ of the mount.
Now let's contrast this with how the Ubiquiti Bullets I've been using make their connections.  Every Bullet and Bullet like product I've seen has a female RJ-45 jack on the bottom with a pretty good facility for weather protection designed into the unit.  The third picture above is the connector on the end of the cable that has been in the pictured bullet for over two years and 7,000 miles, most of it in salt water.  The tradeoff here is that the Bullets don't support 1″ 14 mounts, so you have to find another way to mount them.  Both Wave WiFi and Aigean Networks now offer Bullet form factor devices with 1″ 14 mounts and excellent weather protection.  I'm not aware of any combination WiFi and 4g devices that offer both.
Those are the three connectors from the Winegard setup after about a month on the top rear deck of my boat, with the boat in fresh water.  It's a big difference and a legitimate challenge for manufacturers.  None of the ethernet standards were dreamed up with the marine market in mind and our conditions do present some challenges, but some manufacturers seem to have figured it out better than others.
There's a reason that none of the MFD manufacturers use exposed RJ-45 connectors on their products and that Flir went to the effort of providing the nice weatherproof splice Ben Ellison mentions in his Flir M series testing article.  The manufacturers of these communications devices have some different challenges, but could take the lessons and provide more weatherproof splice enclosures.
Lastly, here's a visual illustration of the challenge running the pigtails off these devices through a 1″ 14 mount.  Only the first mount pictured, a Shakespeare 4188, allows an already terminated RJ-45 end to be fed through.  The other two both require clipping and putting a new end on.
Maybe I'm just a little grumpy because I thought I'd get to play with the new devices and instead I just got to clip cables and crimp ends.