Marina WiFi can be weird, report from New Bern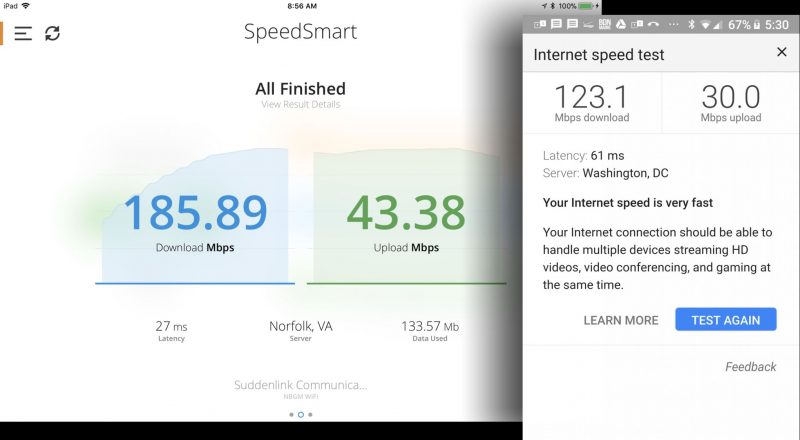 Holy cow!  I've never seen WiFi download speeds over 100 Mbps on land, let alone in a marina, and nevermind a dreaded marina well populated with liveaboards and northbound snowbirds. I measured the internet connectivity above while logged into New Bern Grand Marina's WiFi and was so dumbfounded that I tested the connection with multiple internet speed apps on both iOS and Android devices over four days. The amazing results were consistent — and, zounds, did those apps download fast — but there is much more to the story.
In last week's feature titled Marine internet, a connected year on the water, Ben Stein described the phenomenon of getting poor marina WiFi in your boat while a nearby vessel is getting great performance. Well, Gizmo was experiencing an extreme example of that truism. In fact, I took the screenshot new Ben used to illustrate bandwidth and latency testing and it also suggests WiFi performance so poor I often used my phone's hotspot for speed and reliability. What the hell?
Well, a central piece of the puzzle is that my iPad pro 9.7 and Google Pixel XL 2 include modern dual-band WiFi radios that automatically use the 5 GHz band if it's available and faster, but Gizmo's Chart Table 21 Mac mini and long-tested Coastal Marine WiFi booster/bridge are limited to the original 2.4 GHz WiFi band. The often 100x plus speed difference I experienced on NBGM's WiFi is probably very rare, but it's good to understand what I saw on those apps.
In the first screen above, you're seeing some of the 2.4GHz WiFi hotspots my phone could see from Gizmo's slip at NBGM. The marina's own WiFi is in there on Channel 1, though the phone was apparently so overloaded with signals that access point curves and names kept jumping on and off the screen. By contrast, the NBGM signal high on the 5 GHz band was all by itself and rock solid. And there are many more channels on 5 GHz, as shown in the final time graph screen, though that thicker and topmost yellow line represents the strong NBGM signal, another reason I was seeing such speeds on it.
Now Gizmo was quite close to one of the marina's two serious Meraki WiFi routers, and if you read up on the various WiFi standards, you'll learn that the 5 GHz band is generally shorter range. But then again, there are dual-band bridge/boosters, even at least one easy-to-use marine model. That's the new version of Wave WiFi Rogue Pro, which I've already seen good performance from, and which Ben Stein will soon review in depth. But let's move on to other observations from New Bern.
For instance, I no longer shake my head about the Grand Marina's claim of "NEW Hi Speed Internet for Video Streaming" though it should be followed by numerous asterisks (and it's not a fair burden for marketing folk to lay on a marina manager). What I experienced myself is that NBGM does indeed have a modern WiFi system with substantial backhaul. Heck, I could have been streaming 10 videos at once, easily, and when I fell asleep early one night with Narcos running on my iPad, the Netflix stream had nearly finished the season when I woke (from half dreams with gunfire and Spanish). I don't think it ever stopped or even got pixilated.
But again, I only saw super high-speed WiFi on 5 GHz and meanwhile, the 2.4 GHz internet connection on Gizmo was much dicier than it had been during my December and January times at slip C30. The difference, of course, was warmer weather and a lot more boaters turning on various WiFi devices that may or may not have clogged up 2.4 as well as trying to use NBGM's own 2.4 channel. The excellent marina manager, Jeremy McConnell, told me that he and/or the WiFi service provider SuddenLink could often see more than 100 devices logged into the same NBGM 2.4 hotspot I was trying to use. And it was often hard to get a word with Jeremy because someone was already in the office complaining about the marina WiFi!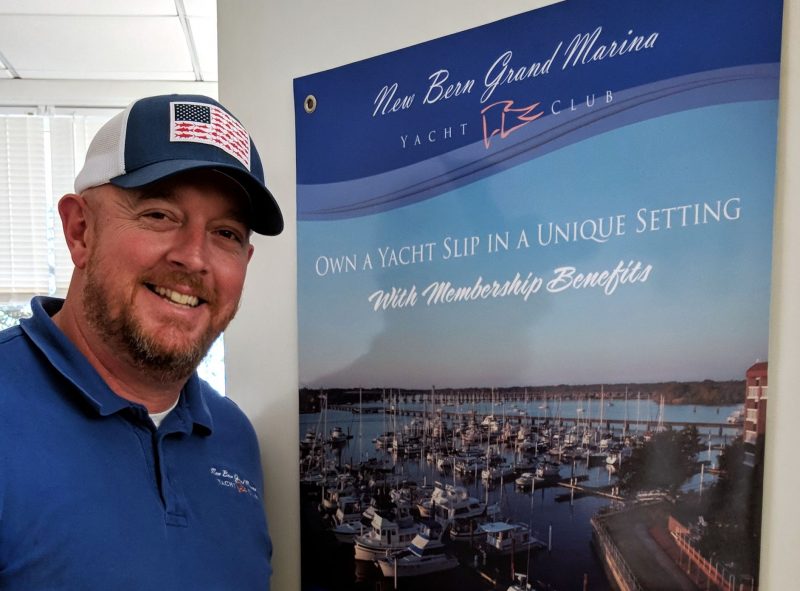 We can do better, fellow boaters with online habits. In Marina WiFi is hard, Steve Mitchell identifies two essential problems: Problem one is "The Space" — by which he means the difficult high-frequency radio environment (that I didn't even touch on in this report) — and Problem number two is "Boaters." That section begins like this (and I thoroughly agree):
It is shocking to me how boat owners expect to connect to a marina WiFi network without any equipment and have the same experience they have at home.
Steve goes on to make many recommendations for boaters (and marinas) — including "Use 5Ghz as much as possible" — and I'm sure that Ben Stein will deliver more good advice in the review and how-to series that last week's feature set the stage for. So instead of complaining to an already-harassed marina manager, how about studying the WiFi issue, downloading some free apps that help quantify real-time speed and band usage, and maybe improving your equipment?