Welcome to the Marine Electronics Forums presented by Panbo and SeaBits.

Adding NMEA 2000 network to 2005 SeaTalk1 Network?
Topic starter
January 3, 2020 9:59 am
I'm  a new owner of a 2005 Beneteau that has an existing Raymarine Seatalk1 Network.
All the instruments are running through the Seatalk1 Network,  I would like to add a NEMA 2000 Network for two way communication adding a NEMA 2000 AIS transponder and a  NMEA 2000 Ethernet Gateway to send all the data to an onboard router.
The router will have Internet and wired webcams connected on the local network and if I understand correctly I can then share the NEMA 2000 and SeaTalk1 data over the Router's Wifi to laptops and tablets?
Thanks, Neil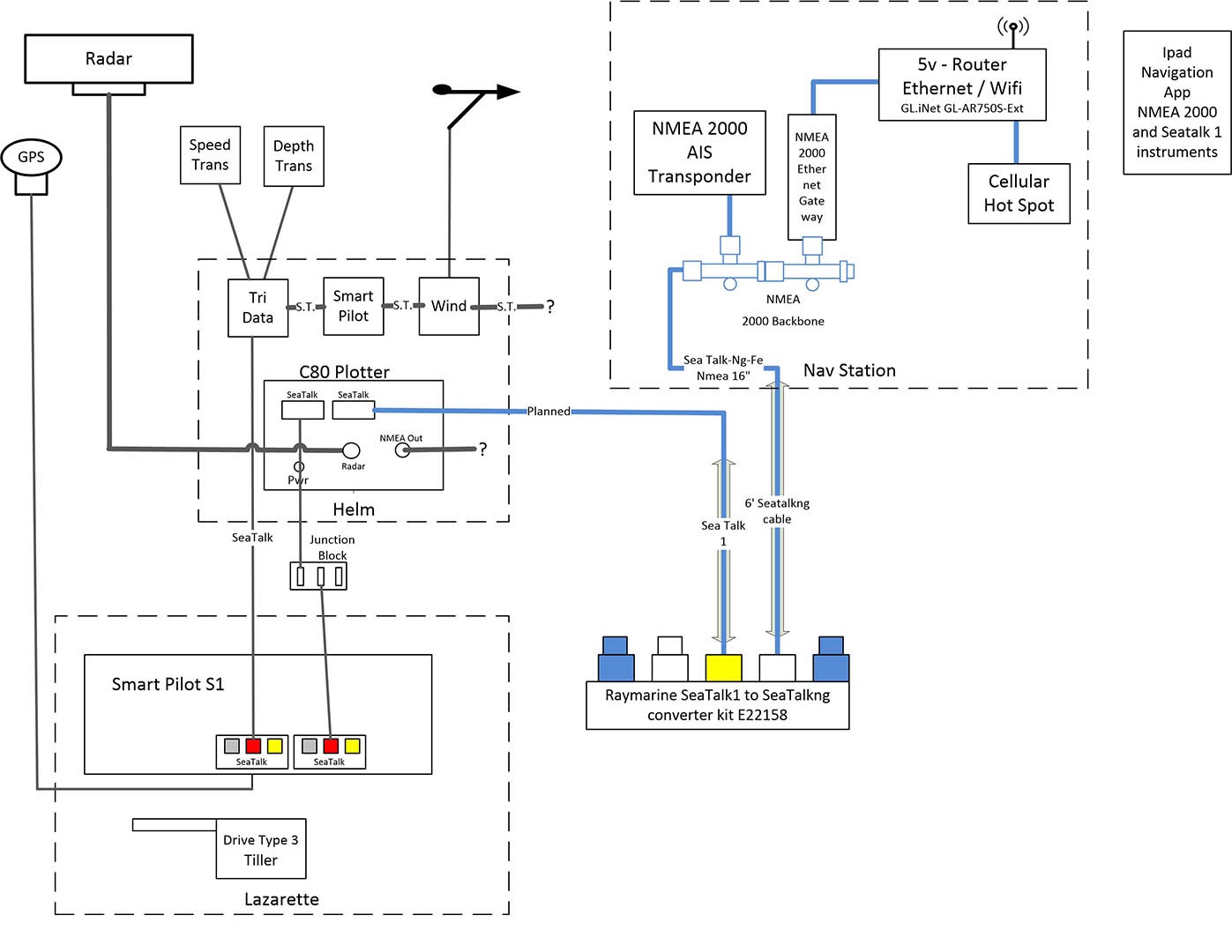 This topic was modified 3 years ago by
Ben Stein
I went ahead and attached the diagram to your original post.   
What you propose will work fine but I do want to make sure you know that your SeaTalk NG and NMEA 2000 network will electrically be a single network.  Because it's a single network there should be a total of two terminators on the  network.  I've done things like put one terminator at one end of the network on a SeaTalk NG five way block and the other way on the other end of the network in NMEA 2000 DeviceNet connectors.  I wish Raymarine made a SeaTalk NG backbone (blue) to DeviceNet cable, but they don't.  
You do have another option from Yacht Devices(and I should mention that I own the U.S. reseller for Yacht Devices).  The Yacht Devices NMEA 2000 router also has NMEA 0183 and SeaTalk 1 inputs, so it could replace the function of both the Raymarine SeaTalk 1 to Sea Talk NG converter and the NMEA 2000 ethernet gateway you show in your diagram.  It is WiFi only though, so if Ethernet is a must, you'll need to stick with your current plan.
Ben
Topic starter
January 3, 2020 2:27 pm
Thanks Ben,
Will the SeaTalk1 system will power the NMEA 2000 network or do I need to power the NMEA 2000 side through the SeaTalkng converter?
Will the NMEA 0183 devices connected to the Seatalk1 system through the Chart Plotter also transmit data over the SeaTalk1 to NMEA 2000?
Neil,
If I understand your questions correctly here are the answers.  The YDNR will draw power from the NMEA 2000 network. It won't draw power from SeaTalk 1.
Data from each of the three networks is bidrectionally converted between each of the networks by default. That behavior can be modified by the user. 
Ben
I use Shipmodul WiFi multiplexer with Nmea, sealtalk and 0183 connectivity. very versatile and has good diagnostics. I would think you might want two separate frequencies,one for outside commas and one for internal networking and data