MIBS 2015: Ocean Signal, ACR, C-Map, Garmin GNX, Lumitec and Veethree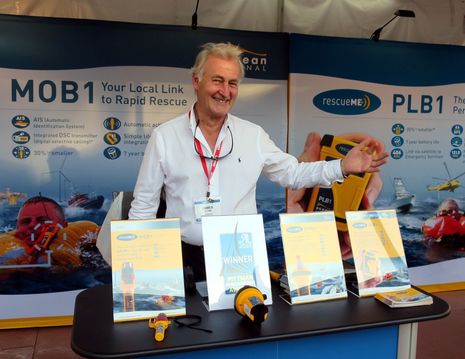 It's often hard to organize the news from a busy event like the Miami International Boat Show (MIBS), but this year a few of my photos stood out because they also portray the people behind the electronics. So say hello to Ocean Signal co-founder James Flynn, seen here showing off their latest ultra compact rescueME safety devices. The MOB1 personal AIS beacon with its added DSC alarm seems impressively simple to fit and use, and thanks to recent FCC approval, it's now available here in the USA.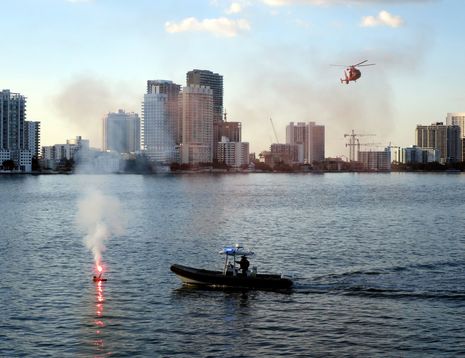 The new Ocean Signal rescueME EPIRB1 also impressed, but the beacon being used in the dramatic simulation above was no doubt well made by ACR, who co-hosted this kickoff "Saved by the Beacon" campaign event with the National Safe Boating Council. I really appreciate the steadfast ability of the COSPAS-SARSAT system and the need for all of us to keep our EPIRB/PLB registrations in order; plus, it was great to have an opportunity to cheer USCG boat and helicopter responders. But several of us noticed that an AIS MOB beacon might have been a better tool for this particular rescue scenario, and I look forward to the day when the SAR community shows more interest in SEND devices like the DeLorme inReach I often carry.
The flares used during the EPIRB demo and later in the dark were new ACR Aurora models that may well become commonplace. The red Aurora Hand Flares will purportedly cost little more than the Orion handhelds most every recreational boat now uses to fulfill USCG requirements, but they are 21 times brighter and seem a lot safer to use. The pull ignitor being shown by ACR marketing director Mikele D'Arcangelo above, for instance, looks a lot friendlier than the striker method. There will also be an Aurora Smoke Flare and yes, these new models seem similar to flares made by ACR sister company PainsWessex but without the SOLAS rating (and higher price). The new flares are not on ACR's marine product page yet, but you can see Mikele making comparisons here.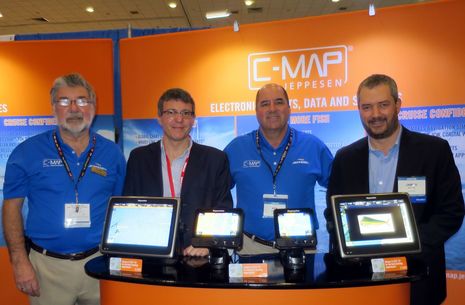 The Jeppesen C-Map gang — Roger Brudenell, Francesco Altamura, Ken Cirillo, and James Detar — were a lot more joyful than I was able to photograph. A nearly full implementation of the C-Map 4D cartography suite was looking quite good on all those Raymarine displays, and it can now be yours with the new Lighthouse 13 update. (Note that matching raster charts will come with every vector region — including paper-like Explorer charts of the Bahamas — but Easy Routing and Guardian Alarm are still on the to-do list.) Add Raymarine compatability to the improving quality of Max-N+ charts for Navico MFDs that I saw in Hawk's Cay and suddenly C-Map is a compelling choice for a whole lot of boaters.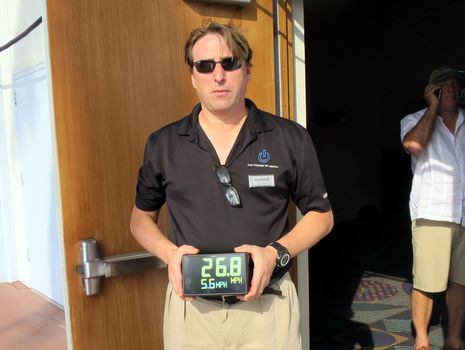 While I think that Jan Silfven was also grinning on the inside, both of us were intent on trying to show how well a Garmin GNX display does its thing in bright Miami sunlight. Jan was part owner of Nexus Marine at one point, then a partner of Dean Barker, and now he seems excited to be part of the Garmin sail performance team in Sweden. He's also the guy who once showed me how quickly a custom data label could be programmed into a Nexus display — illustration here — and I was happy to learn at the show that Garmin is making that sort of customization easy on the GNX for third party racing developers.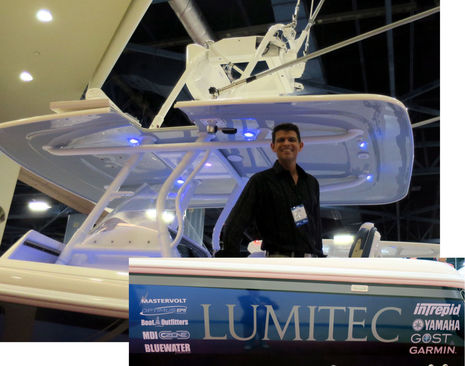 I was tickled to learn that Lumitec founder and CEO John Kujawa has teamed up with several other outstanding engineers on a research project called the innovation boat. For instance, while using simple on/off power switching to put light fixtures into different dim and color modes is common practice, this boat combines that idea with the speed and precision of digital switching (by CZone). The result is a simple interface that can deeply control individual lights on single power circuit while also being light on install expense and hassle. It's still an experiment, though.
Finally, Veethree Intruments sales engineer Eric Mueller showed me the company's very interesting new Engine Gateway Monitor, which can put analog and J1939 engine data onto NMEA 2000 networks as well as display it (PDF here). Veethree is the instrument side of Teleflex and they know a lot about engine monitoring. Eric also had a prototype for a black box version of the gateway that will also be flexible and reasonably priced.