Mind your March tide table, new DST and T&C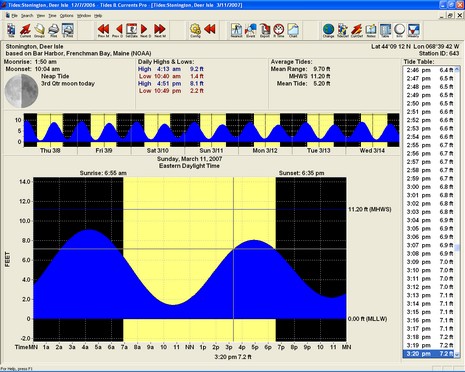 There's something special about this Nobeltec Tides & Currents 3.5 screen shot, bigger here. Besides some sleek improvements to the interface, the program—targeted for release in early January—is corrected for the new Daylight Saving Time (DST) scheme coming to the U.S. in 2007. Yes, in case you hadn't heard, we are adding a month of DST, now starting it on the second Sunday in March and extending it to the first Sunday in November (with a few exceptions). That will most definitely mess up any uncorrected software or printed tide tables you use, if they are supposedly adjusted for DST. (NOAA used to print all tables in Standard Time because, according to a functionary I once spoke to, they didn't know how to handle predictions that fell between 1am and 2am on the last "fall back" day of DST, when that "hour" happens twice).
I know way too much about tide tables from my days as 'editor' (data dicer actually) at Reed's Nautical Almanacs. I still use some of the skills learned to make a couple of newspaper tide tables, like the one below (bigger here). There's a lot of scripting and Quark XPress tag trickery behind that table, but I get the tide predictions themselves using the nifty data export facility of T&C. Note the difference between 3/11 tides above and below: I've marked the new "DST begins" on the table but the data is still wrong, awaiting T&C 3.5.