Mobilarm VPIRB, interesting idea with the wrong acronym?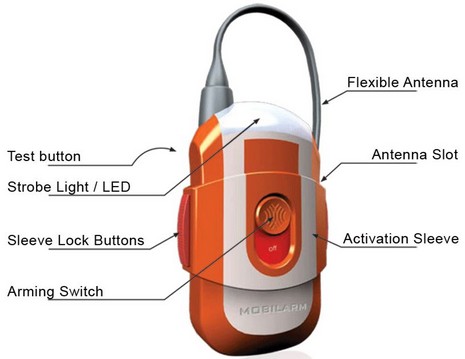 I've long thought that handheld VHF DSC can have real value in a MOB situation, which is one reason I'm delighted that the HX850S is shipping and a similar Lowrance model should soon follow. I also figure that we'll soon see more Spot-like satellite messenger/GPS/-safety products, and there will be even more confusion about how they work relative to official SARSAT system with it PLBs and EPIRBs (as referenced at the end of the recent FOB entry). But I had no idea until today that Mobilarm was developing a dedicated VHF/DSC/GPS man overboard device, and apparently marketing it as an alternative to a personal EPIRB.
The Mobilarm V100 "VPIRB" above—due to ship in September for $749—looks like a well-thought-out and built device, as you can thoroughly check out on Mobilarm's product page. It even sends out the specific DSC distress message "Man Overboard" and a synthesized voice alert that should get the attention of any boat within handheld VHF range that has its radio on, even if its not DSC. And Mobilarm, mind you, has been competing in the MOB alarm niche for some time.
But what the heck is this "VPIRB" business? Mobilarm claims it stands for "VHF Position Indicating Radio Beacon," but isn't the acronym confusingly close to EPIRB, i.e. an Emergency Position Indicating Radio Beacon. And isn't an EPIRB, or its personal PLB cousin, able to alert the SARSAT authorities from almost any spot in the ocean, while a VPIRB—by definition just a handheld VHF device transmitting from water level—only has a range of maybe 5 miles? And isn't the confusion magnified by the global-looking diagram below, which is absurdly out of scale? Finally, SailWorld.com has an article about the V100 VPIRB which quotes a Mobilarm marketing person saying:
"The Mobilarm V100 VPIRB is a perfect alternative to the personal 406 EPIRB and 121.5 MHz personal locator beacons. If you carry a personal EPIRB, you can easily carry a VPIRB instead. The only time you would choose a personal EPIRB over the VPIRB if you were sailing or power-boating single-handed."
I'm guessing that Mobilarm means that claim only regarding man overboard situations and, not, say, in the situation where your vessel is sinking when beyond anyone's VHF range. Am I misunderstanding something about this product and its confusing acronym? If not, I'd like to suggest to Mobilarm and any other company developing distress communicators that they not be named anything like PLB or EPIRB unless they actually use the SARSAT technology that most boaters have learned to associate with those terms. We're confused enough already!