More Gizmo 2011, the solar panel project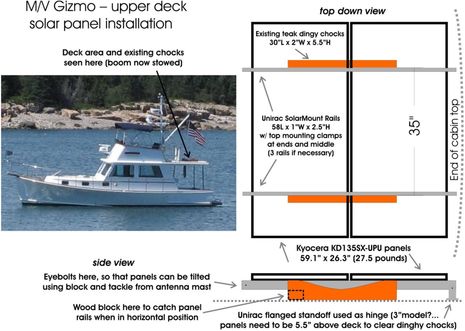 So maybe this is an all-about-Gizmo week. Given her multitude of electronics partly described on Monday, and the fact that the boat rarely sees shore power, plus how helpful readers were in spec'n out the ChartTable21 discussed yesterday (and yet more strain on the 12v bank), I'm keen to add some solar panels and I again seek advice. Oh, and while Gizmo does have a 6 kW generator, I don't like running it, and would enjoy removing it altogether. I created the drawing above (PDF here) in an effort to explain to a solar salesman in Arizona what I was up to, but I haven't purchased anything yet…
The heart of the system is a pair of 135 Watt Kyocera KD135SX-UPU 12 volt panels that will be wired in parallel. This is about the most wattage I can fit on that aft cabin top and a conservative choice as Kyoceras are in use on many boats, including a harbor neighbor who raves about their output and reliability. He's also in full agreement about my desire to have a fore and aft tilt mechanism as our boats both lay at mooring floats that are aligned close to north/south and tilt means a lot at our high latitude.
I also like the idea of being able to access that aft deck. I doubt I'll ever lift the little inflatable that came with Gizmo onto that high perch again, but I do still have it, and it seems wrong to remove the well installed teak chocks. Plus if I get the frame right, it could also serve as a crutch for those rare occasions when I lower the antenna mast. But it took me a year to realize that I could use the mast's existing tackle and winch to tilt the panels appropriately to the season rather than coming up with some sort of adjustable legs. And the old sailor in me likes that; who wouldn't want to sing out "Sun's aft, laddies, time to hoist the panels!"
At any rate, I'm thinking of starting with off-the-shelf Unirac SolarMount panel rack components because they seem well designed, they're inexpensive, and, geez, it is July already. They're also anondized aluminum, which fits my desire to keep this system light, except for the flanged stand-offs which I plan to use as hinges. They're zinc-plated steel and could be a problem, but it would be easy to have them duplicated in aluminum at a later date.
As for a charge controller, I don't think I need much in the way of monitoring — Gizmo is already loaded with shunts, current sensors, displays etc. — but I am pretty much persuaded that MPPT (maximum power point tracking) is worth a few extra dollars. Thus I'm thinking about a unit like the Blue Sky 1524iX, seen below as tricked out by eMarine for easy boat installation. So what do you think, Panbots, does this system look right for quietly helping me run electronics and even refrigeration at will?