More mega, the phone thing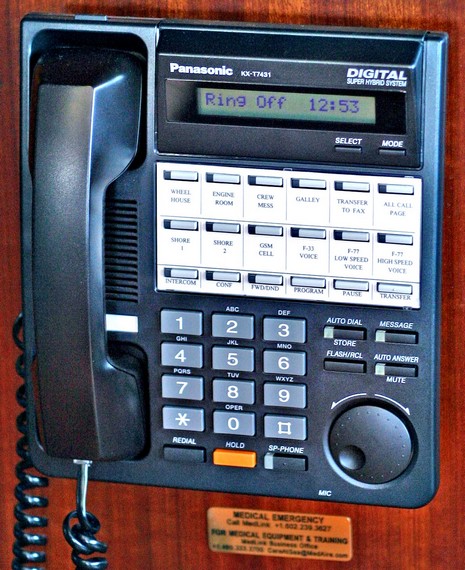 My question, having seen the vast communications closet, was, "Is there a system for least cost routing the yacht's phone calls?" And the answer was that you just go left to right on the line buttons shown above—shore lines 1 & 2, GSM cellular, Fleet 33, Fleet 77 low and high speed. The first one with a dial tone is the cheapest way to make a call. It's striking that on these megayachts full of screens and other extravagances, some of the most important install techniques are simple ideas like this, plus excellent labeling.
Also on the "keep it simple (sort of)" theme: this Panasonic Super Hybrid System has apparently become more or less standard on megas, making it easier for installers and crews moving from one boat to another. But the installer did have to take a week-long training in how to set it up (it will even print out bills for charter guests). Note that the cell line is an Ericsson fixed unit, further amplified by a wireless Digital amplifier that also helps out other cells being used near the bridge.