More SimNet, plus the handy AT10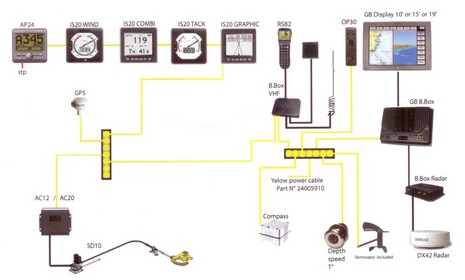 I thank Dan for yesterday's NMEA 2000 homily (more guest blog entries welcome!), but I do want to play devil's advocate. I've had my head in the Simrad Yachting 2008 catalog today (unfortunately not online yet), and I'm ever more impressed with how thoroughly the company has adopted its SimNet version of N2K. All those yellow lines in the diagram above, bigger here, represent SimNet data bearing cables (power too in many cases). I hadn't fully realized that Simrad has N2K GPS, depth, and wind sensors as well as the rudder angle and compass that were mentioned with the new autopilots. Of course the AI50 Class B AIS would also plug and play nicely with this typical sail system, and give it a backup GPS, as long as it was powered up. And the SimNet cabling has a lot going for it, like a tiny plug that's the same on both ends, and the ability to daisy chain, even the backbone in some cases like that RS86 VHF.

Now SimNet does not have the field attachable connectors, and many other doodads available with standard NMEA cabling, but you could make standard cabling work in this system…with a lot of patch cables. Heck, Furuno is even daisy chaining DeviceNet cables, though I don't think that's NMEA approved. And Simrad clearly states in its catalog that male and female adapter cables are available to "easily connect" their N2K gear to a standard backbone. You can find more info in their SimNet manuals, which include details on a little known but very handy NMEA 0183/2000 AT10 translator. This device, shown below, costs about $100 (from Maretron and elsewhere) and automatically converts quite a few common data sentences both ways. It could be darn useful in some installs. By the way, if Ethernet would be so much better than N2K—see yesterday's comments—why the heck isn't Simrad, or Furuno, or Garmin, or Raymarine, or anyone making Ethernet compasses, GPSs, depth sensors, etc.? It seems obvious that they aren't particularly concerned about working with each other's gear But I think the momentum of NMEA 2000, with some push by some properly pesky customers (like Dan and Russ), is going to let us do that anyway.