MTA returns: Is 2011 a "consolidation year"?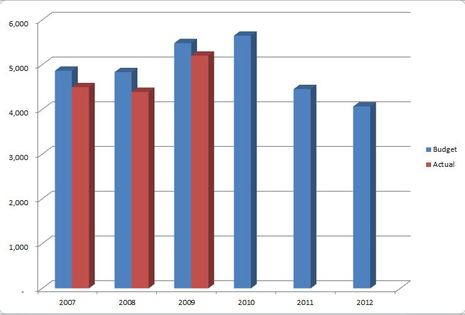 In February, 2010, I wrote about how the little marine electronics industry could use some market intelligence — often called MI — and welcomed a startup firm called Marine Technology Advisors. MTA created a fairly dense survey and during the period when nearly 1,000 Panbo readers participated in it, we got to see who some our favorite sources are and what we were thinking about buying. Then, as MTA sliced and diced the complete data set, we got a peek at Panbo demographics on the site's fifth birthday and what I thought was some very interesting analysis of brand recognition and perception. Meanwhile, MTA was at work behind the scenes trying to market their analysis to the trade, and I understand they got some good nibbles…
However, some personal and day job issues led MTA to go on hiatus for while. But now they're back. In fact, MTA is now three men strong and will soon have a Web presence. And they'll also soon be asking us to update last year's survey and may have some new questions. Plus they've been looking over the original data set and have a few more results entries, starting with this look at annual spending patterns. Take it away, MTA:
Was 2010 A Peak?
Average recreational marine electronics buyer budgets declined in 2007 and 2008. Budgets of 'power users' grew nearly 18% in 2009 and were expected to grow by another 3% in 2010. Changes in actual spending mirrored these trends generally. As budgets declined, so too did the share of budget that was actually spent – 92% and 90% in down budget years 2007 and 2008. However, 2009 was a turnaround year for the market, when budgets were forecast to grow nearly 13% and actual spending increased 18%. During that year, actual spend was nearly 96% of budget for the group surveyed.
The point here: When times are tough, as they were in 2008 and 2009, recreational boat buyers decrease their budgets, but decrease their actual spend even more. When times are good, they grow their budgets and spend materially, but, actual still trails budgeted.
Take Away: Mind the Gap
Marine electronics suppliers would do well to apply this insight to their forecasting models. Why? Because, if the trending is accurate, then 2011 budgets, which show a 21% decline versus 2010 – as of a year ago – may trigger a 25% decline in actual spending. Remember, in down budget years, the share of budget actually spent is closer to 90%, versus up years, when it is 95%.
MTA is looking to survey recreational users again this month to refresh 2010-2012 budgets, and capture 2010 actuals. This year, we will ask respondents for their actual Q1 spend to see if we can learn anything from that data. Perhaps the new data will show a more optimistic market? If not, perhaps this data will help suppliers and retailers adjust their spot material commit, promotion and advertising plans, and retool for a lower rate of spend in the forward 24 months.

For you buyer-readers: The market is yours again. Have fun pricing new toys.