N2K instruments, the big display leagues next?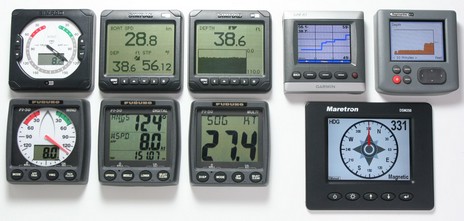 Check the bigger image; is that not a pretty sweet install, even if I do say so myself? There's also some interesting screen detail here, like the handsome water temperature graph the GMI 10 can put up. Just behind its Menu button are choices of range and time. But the Garmin does not yet do a depth graph like the ones seen on the IS20 Graphic and ST70. On the latter you can change time ranges from 1 minute to 24 hours with just the left/right buttons, which is cool, but wouldn't it be nice if Raymarine put the current depth in bold font in that white space upper right? The Simrad graph covers a few minutes and has no controls, but I do like that icon reminding you that the depth is being measured from the keel. All screens, by the way, are at max brightness, except the Garmin, which is at 60%. Next week we'll see how they look in direct and filtered sunlight. Now here's a question: if you were photographing these for a powerboat and fishing magazine, what screens would you use?

But what about those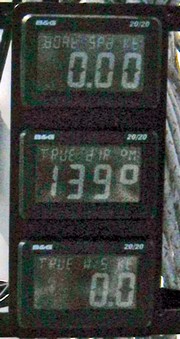 big digital displays that racing sailors like to put on their masts where the whole crew can see them? It seems to me that N2K would work well to feed and control big remote displays, but so far B & G, Nexus, Ockam, NKE, and Tacktick—the companies specializing this niche—all seem to be using NMEA 0183 and/or their own proprietary networking. At any rate, I saw many such displays around Newport, all by B & G as a matter of fact, and that includes the new Puma Volvo boat and the three vintage 12 meters that PMY and Sail chartered yesterday. Which was so much fun—even when the wind was zilch, as seen right on Nefertiti's B & G 20/20's—that I forgot to give Spot the sky view it needs. Check the shot below, bigger here, as we left American Eagle and Weatherly in the dust. I was quite impressed with how America's Cup Charters keeps these boats in excellent racing condition.