Near miss, AIS in the Malacca Straits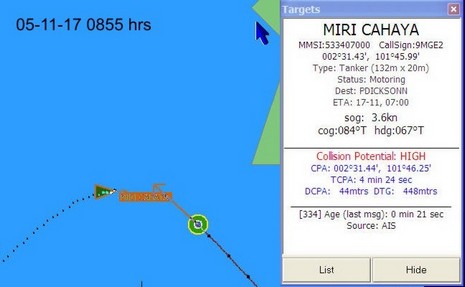 Go to this page to see a series of screen grabs illustrating a scary close call between the 32' ketch Valhalla and the 132 meter tanker Miri Cahaya. I'd almost guess that the tanker was trying to slow down and turn right to go astern of the ketch, but that's easy to say sitting in the comfort of my office. Captain Sargent was looking at a whole lot of moving steel with a Closest Point of Approach at one point of 44 meters! He also had prior knowledge of some malicious mariners in these waters, which is probably why he was collecting a history of screen shots. At any rate, he made a possibly controversial last minute decision to turn hard left and cross the tanker's bow, and it worked. You might also look here to see Valhalla's AIS setup, which includes a NASA receiver and SOB software (note above how it gives time of last message; nice!). The page also has some screens showing how AIS busy the Malacca Straits are. I understand that the Singapore Vessel Traffic Information System is possibly the busiest in the world, and is using AIS messaging heavily to route ships.
This entry is also an example of how the Internet is changing cruising (and all communications). This incident happened on 11/17, was posted to Valhalla's site yesterday, and Panbo reader Steve Tripp emailed me about it today. And as I was writing the entry this morning, Captain Sargent—now located in Langkawi, Malaysia—updated this useful page of cruising info about Port Carmen, Philippines, including an antique chart scan improved with GPS annotations by Steve. Big planet, small world.