Nauti Tech — New remote maneuvers vessels with confident ease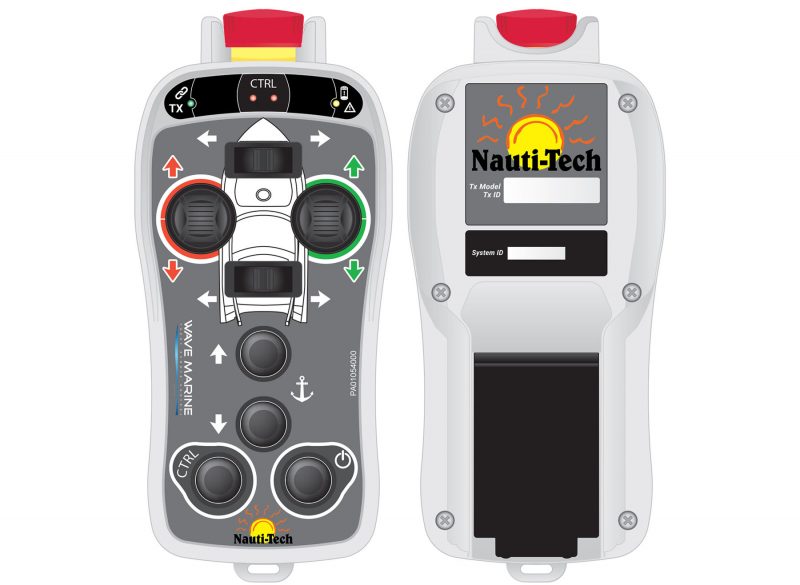 Even seasoned professionals find docking and maneuvering in tight situations a nerve-wracking experience, especially in unfamiliar locations or when strong wind and currents are at play. The new Wave Marine M880 available from Nauti-Tech dynamically controls engines, thrusters and other devices. It delivers the ability to safely and confidently dock, anchor, moor and navigate tricky passages from any location on the vessel. Ideal for small yachts to superyachts, it's standard equipment on the Westport Yachts W125, and Grand Banks and Palm Beach Motor Yachts.
The most powerful remote available, the Wave Marine M880 controls the vessel up to 492′ away. Sixteen channels provide failsafe operation, and code encryption guarantees the signal remains connected to the correct yacht when multiple units are in use within its range. It uses radio frequency, so it's far more reliable than other wireless protocols—an important consideration when moving a 125′ yacht.
Beyond engines and thrusters, the Wave Marine M880 will control onboard accessories. Swim platforms, garage doors, sunroofs, anchor windlasses, passerelles and other electric and hydraulic-powered appliances can be connected to the device.
The ergonomically designed Wave Marine M880 is intuitive to use, with graphical indicators that even inexperienced users will understand.  A stop button is located on the device for full control away from the helm. LED backlighting allows for nighttime use. It measures 6.8″ L x 3.4″ W x 1.7″ D and weighs 12 oz.
The rugged Wave Marine M880 remote floats and is RoHS-standardized, IP65-rated for water resistance and drop test-certified. It features rechargeable lithium-ion batteries. Built with German and Austrian components—no Chinese parts—it can be customized to match the vessel. It's built by IMET/Wave Marine, a company with over 30 years of IMET technology.
The Wave Marine M880 from Nauti-Tech includes the transmitting and receiver units, two rechargeable lithium-ion batteries with charger, RX fixing brackets, packet fuses, carrying belt, user manual and declaration of CE conformity. It costs $12,995 with delivery time in about two weeks, depending on the configuration.
Contact Nauti-Tech, 3219 S. Andrews Ave, Fort Lauderdale, FL 33316. 954-527-0716. [email protected]; www.nauti-tech.com.
This press release distributed by Martin Flory Group